Duinstraatje 3 - Apartment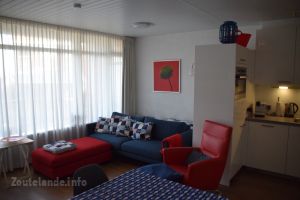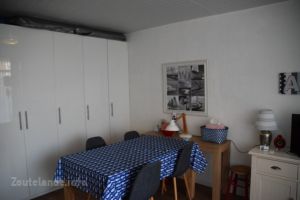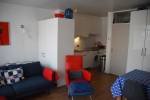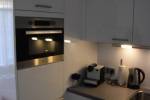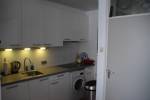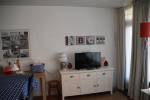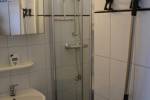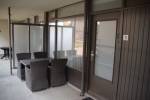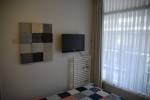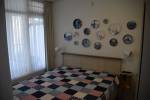 Midden in het dorp Zoutelande ligt ons knusse appartement dat geschikt is voor 2 personen. Het appartement ligt op 50 meter van het strand, de winkels en de restaurantjes. Om in ons appartement te komen hoef je slechts één trap op!

De indeling is als volgt:

Je komt binnen in het halletje met kapstok en toegang tot de badkamer, slaap- en woonkamer met open keuken. In de badkamer vind je het toilet, douche en wastafel met spiegelkast. De badkamer is voorzien van een radiator.

In de slaapkamer vind je een elektrisch verstelbaar tweepersoons bed (160 cm * 200 cm) . Op de slaapkamer hangt een tv met een chromecast, streamen is dus mogelijk. Natuurlijk is in het appartement Wifi aanwezig. Op de slaapkamer staan twee kasten met een hang- en leggedeelte. Dekbedden en kussens zijn aanwezig.

De keuken en woonkamer staan in een open verbinding met elkaar. De keuken is uitgerust met een vaatwasser, wasmachine, keramische kooplaat, afzuigkap, koelkast met vriesvak, combi-oven, waterkoker en twee koffiezetapparaten (waarvan een nespresso). In de keukenkastje vind je meer dan genoeg servies en kookgerei.

In de woonkamer staat een tv met daarop het zenderaanbod van Delta (dus ook de Duitse zenders). Muziek kun je luisteren via de blue-tooth speakers. Ook vind je hier de comfortabele bank en de luie stoel. In de woonkamer is ook weer voldoende bergruimte aanwezig in de kasten (hang- en leggedeelte en lades). Achter de bank staat een smal bed (70cm * 200 cm) zodat het appartement eventueel ook door drie personen kan worden gebruikt.

Op de galerij is een terras met tafel en 4 stoelen aanwezig en aan de voorkant is er ook nog een klein privé balkon met uitzicht op de winkeltjes. Ook zijn er twee lichtgewicht aluminium relax-stoelen aanwezig die je mee kunt nemen naar het strand.

Kortom alles wat je nodig hebt voor een comfortabel verblijf is aanwezig. Je auto kun je parkeren in de parkeerkelder onder het appartement of buiten op straat, voor een parkeervergunning wordt gezorgd. Kleine honden zijn ook welkom in ons appartement, maar dan gelden er wel enkele aanvullende voorwaarden.
For information and reservation
Westkust Holiday
Westkapelseweg 17, Zoutelande
tel. +31 118 561 823
mob. +31 653 672 272
mail.
E-mail
web.
Website
Characteristics
Max. 2 personen.

Bedrooms: 1.
Bedden: 2.
Bathrooms: 1.

Pets allowed after consultation.
No smoking.
Washing machine.
Kitchen
Refrigerator.
Freezer compartment.
Coffee machine.
Water boiler.
Dishwasher.
Outside
Balcony.
Garden furniture.
Car parking place.
Location
Distance to the beach: ±50 m.
Distance to the city centre: ±50 m.
Not on holiday park.
Occupancy rate
October 2022
39
1
2
40
3
4
5
6
7
8
9
41
10
11
12
13
14
15
16
42
17
18
19
20
21
22
23
43
24
25
26
27
28
29
30
44
31
November 2022
44
1
2
3
4
5
6
45
7
8
9
10
11
12
13
46
14
15
16
17
18
19
20
47
21
22
23
24
25
26
27
48
28
29
30
December 2022
48
1
2
3
4
49
5
6
7
8
9
10
11
50
12
13
14
15
16
17
18
51
19
20
21
22
23
24
25
52
26
27
28
29
30
31
January 2023
52
1
01
2
3
4
5
6
7
8
02
9
10
11
12
13
14
15
03
16
17
18
19
20
21
22
04
23
24
25
26
27
28
29
05
30
31
February 2023
05
1
2
3
4
5
06
6
7
8
9
10
11
12
07
13
14
15
16
17
18
19
08
20
21
22
23
24
25
26
09
27
28
March 2023
09
1
2
3
4
5
10
6
7
8
9
10
11
12
11
13
14
15
16
17
18
19
12
20
21
22
23
24
25
26
13
27
28
29
30
31
April 2023
13
1
2
14
3
4
5
6
7
8
9
15
10
11
12
13
14
15
16
16
17
18
19
20
21
22
23
17
24
25
26
27
28
29
30
May 2023
18
1
2
3
4
5
6
7
19
8
9
10
11
12
13
14
20
15
16
17
18
19
20
21
21
22
23
24
25
26
27
28
22
29
30
31
June 2023
22
1
2
3
4
23
5
6
7
8
9
10
11
24
12
13
14
15
16
17
18
25
19
20
21
22
23
24
25
26
26
27
28
29
30
July 2023
26
1
2
27
3
4
5
6
7
8
9
28
10
11
12
13
14
15
16
29
17
18
19
20
21
22
23
30
24
25
26
27
28
29
30
31
31
August 2023
31
1
2
3
4
5
6
32
7
8
9
10
11
12
13
33
14
15
16
17
18
19
20
34
21
22
23
24
25
26
27
35
28
29
30
31
September 2023
35
1
2
3
36
4
5
6
7
8
9
10
37
11
12
13
14
15
16
17
38
18
19
20
21
22
23
24
39
25
26
27
28
29
30
October 2023
39
1
40
2
3
4
5
6
7
8
41
9
10
11
12
13
14
15
42
16
17
18
19
20
21
22
43
23
24
25
26
27
28
29
44
30
31
November 2023
44
1
2
3
4
5
45
6
7
8
9
10
11
12
46
13
14
15
16
17
18
19
47
20
21
22
23
24
25
26
48
27
28
29
30
December 2023
48
1
2
3
49
4
5
6
7
8
9
10
50
11
12
13
14
15
16
17
51
18
19
20
21
22
23
24
52
25
26
27
28
29
30
31
January 2024
01
1
2
3
4
5
6
7
02
8
9
10
11
12
13
14
03
15
16
17
18
19
20
21
04
22
23
24
25
26
27
28
05
29
30
31
Location