Kurhaus, Nieuwstraat 1-14 - Apartment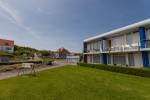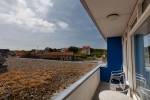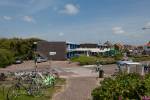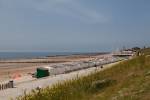 Kurhaus Appartementen in Zoutelande is gelegen aan de rand van de dorpskern, met het strand op een steenworp afstand. Goed onderhoud en regelmatige verbouwingen hebben geleid tot een appartementencomplex dat aan alle hedendaagse eisen voldoet. Balkons en terrassen liggen op het zuiden en zijn voorzien van eigentijds tuinmeubulair. De appartementen zijn ingericht voor drie of vier personen en heeft twee slaapkamers.

Ook beschikt elk appartement over een moderne keuken, doucheruimte met wastafel en toilet. Ieder appartement is voorzien van een kabelaansluiting en een kleurentelevisie en zijn door de Stichting Classificatie Kampeer en Bungalowbedrijven gewaardeerd in klasse 2.

Zoutelande ligt aan de zuidwest kust van Walcheren. Samen met de beschutte ligging leidt dat tot gemiddeld hogere temperaturen in voor- en naseizoen, dan elders langs de kust. Ook het aantal zonuren ligt gemiddeld hoger dan in andere badplaatsen. Zoutelande beschikt over een mooi, breed strand. Over de hoge duinen loopt een breed wandelpad, dat mooie vergezichten biedt over de Westerschelde en het eigenzinnige Zeeuwse landschap.

Uw viervoeter is bij ons ook welkom!

Op de website biedt Kurhaus Appartementen u alle informatie, die uw vakantieverblijf in het Zeeuwse kan veraangenamen.
For information and reservation
Westkust Holiday
Westkapelseweg 17, Zoutelande
tel. +31 118 561 823
mob. +31 653 672 272
mail.
E-mail
web.
Website
Characteristics
Price indication: €330,00 to €630,00 per week.
Max. 4 personen.

Bedrooms: 2.
Bedden: 4.
Stapelbed.
Bathrooms: 1.

Floor space: ±50 m².
Pets not allowed.
No smoking.
Kitchen
Refrigerator.
Freezer compartment.
Coffee machine.
Water boiler.
Toaster.
Microwave.
Media
Wi-Fi internet.
TV.
Foreign TV channels.
Outside
Terrace.
Balcony.
Garden furniture.
Car parking place.
Location
Distance to the beach: ±50 m.
Distance to the city centre: ±100 m.
By the sea.
Occupancy rate
December 2022
48
1
2
3
4
49
5
6
7
8
9
10
11
50
12
13
14
15
16
17
18
51
19
20
21
22
23
24
25
52
26
27
28
29
30
31
January 2023
52
1
01
2
3
4
5
6
7
8
02
9
10
11
12
13
14
15
03
16
17
18
19
20
21
22
04
23
24
25
26
27
28
29
05
30
31
February 2023
05
1
2
3
4
5
06
6
7
8
9
10
11
12
07
13
14
15
16
17
18
19
08
20
21
22
23
24
25
26
09
27
28
March 2023
09
1
2
3
4
5
10
6
7
8
9
10
11
12
11
13
14
15
16
17
18
19
12
20
21
22
23
24
25
26
13
27
28
29
30
31
April 2023
13
1
2
14
3
4
5
6
7
8
9
15
10
11
12
13
14
15
16
16
17
18
19
20
21
22
23
17
24
25
26
27
28
29
30
May 2023
18
1
2
3
4
5
6
7
19
8
9
10
11
12
13
14
20
15
16
17
18
19
20
21
21
22
23
24
25
26
27
28
22
29
30
31
June 2023
22
1
2
3
4
23
5
6
7
8
9
10
11
24
12
13
14
15
16
17
18
25
19
20
21
22
23
24
25
26
26
27
28
29
30
July 2023
26
1
2
27
3
4
5
6
7
8
9
28
10
11
12
13
14
15
16
29
17
18
19
20
21
22
23
30
24
25
26
27
28
29
30
31
31
August 2023
31
1
2
3
4
5
6
32
7
8
9
10
11
12
13
33
14
15
16
17
18
19
20
34
21
22
23
24
25
26
27
35
28
29
30
31
September 2023
35
1
2
3
36
4
5
6
7
8
9
10
37
11
12
13
14
15
16
17
38
18
19
20
21
22
23
24
39
25
26
27
28
29
30
October 2023
39
1
40
2
3
4
5
6
7
8
41
9
10
11
12
13
14
15
42
16
17
18
19
20
21
22
43
23
24
25
26
27
28
29
44
30
31
November 2023
44
1
2
3
4
5
45
6
7
8
9
10
11
12
46
13
14
15
16
17
18
19
47
20
21
22
23
24
25
26
48
27
28
29
30
December 2023
48
1
2
3
49
4
5
6
7
8
9
10
50
11
12
13
14
15
16
17
51
18
19
20
21
22
23
24
52
25
26
27
28
29
30
31
January 2024
01
1
2
3
4
5
6
7
02
8
9
10
11
12
13
14
03
15
16
17
18
19
20
21
04
22
23
24
25
26
27
28
05
29
30
31
Location