Duinstraatje 39 - Apartment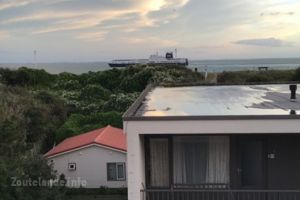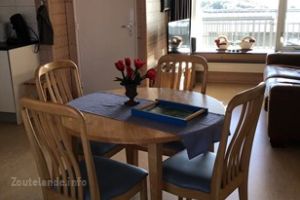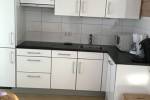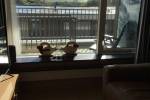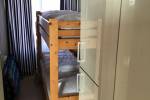 Duinstraatje 39 in het centrum van Zoutelande met zeezicht! Appartement op unieke locatie midden in het levendige Zoutelande, zuiderstrand, zee, boulevard en centrum op 50 meter afstand!

Direct gelegen aan het pad naar zee, strand en boulevard. Het appartement is eigentijds en sfeervol ingericht en voorzien van alle comfort. Het appartement met balkon aan de voorzijde (dorpszijde) en groot balkon met zeezicht (zeezijde), maakt deel uit van de "Duinflat", ligt op de derde verdieping en is te bereiken via de hoofdentree. Het appartement is 40m2 en is ideaal voor 2-4 personen en kan volledig worden verwarmd.

Indeling appartement:
- Woonkamer met eettafel en 4 stoelen, 2-persoons bed, zitbank.
- Volledig ingerichte keuken met fornuis, magnetron, koelkast en vaatwasser.
- Badkamer met toilet, wastafel en douche.
- 1 slaapkamer voor 2 personen.
- Onder het gebouw: afgesloten fietsenstalling
- Parkeerplaats voor 1 auto
- Dekbedden en kussens zijn aanwezig.
- Bedlinnen graag meenemen of huren bij Westkust Holiday, Zoutelande.
For information and reservation
Westkust Holiday
Westkapelseweg 17, Zoutelande
tel. +31 118 561 823
mob. +31 653 672 272
mail.
E-mail
web.
Website
Characteristics
Max. 4 personen.

Bedrooms: 1.
Bedden: 2.
Stapelbed.
Bathrooms: 1.

Floor space: ±40 m².
Pets allowed after consultation.
No smoking.
Kitchen
Refrigerator.
Coffee machine.
Water boiler.
Dishwasher.
Microwave.
Outside
Balcony.
Garden furniture.
Car parking place.
Location
Distance to the beach: ±50 m.
Distance to the city centre: ±50 m.
Not on holiday park.
Occupancy rate
December 2022
48
1
2
3
4
49
5
6
7
8
9
10
11
50
12
13
14
15
16
17
18
51
19
20
21
22
23
24
25
52
26
27
28
29
30
31
January 2023
52
1
01
2
3
4
5
6
7
8
02
9
10
11
12
13
14
15
03
16
17
18
19
20
21
22
04
23
24
25
26
27
28
29
05
30
31
February 2023
05
1
2
3
4
5
06
6
7
8
9
10
11
12
07
13
14
15
16
17
18
19
08
20
21
22
23
24
25
26
09
27
28
March 2023
09
1
2
3
4
5
10
6
7
8
9
10
11
12
11
13
14
15
16
17
18
19
12
20
21
22
23
24
25
26
13
27
28
29
30
31
April 2023
13
1
2
14
3
4
5
6
7
8
9
15
10
11
12
13
14
15
16
16
17
18
19
20
21
22
23
17
24
25
26
27
28
29
30
May 2023
18
1
2
3
4
5
6
7
19
8
9
10
11
12
13
14
20
15
16
17
18
19
20
21
21
22
23
24
25
26
27
28
22
29
30
31
June 2023
22
1
2
3
4
23
5
6
7
8
9
10
11
24
12
13
14
15
16
17
18
25
19
20
21
22
23
24
25
26
26
27
28
29
30
July 2023
26
1
2
27
3
4
5
6
7
8
9
28
10
11
12
13
14
15
16
29
17
18
19
20
21
22
23
30
24
25
26
27
28
29
30
31
31
August 2023
31
1
2
3
4
5
6
32
7
8
9
10
11
12
13
33
14
15
16
17
18
19
20
34
21
22
23
24
25
26
27
35
28
29
30
31
September 2023
35
1
2
3
36
4
5
6
7
8
9
10
37
11
12
13
14
15
16
17
38
18
19
20
21
22
23
24
39
25
26
27
28
29
30
October 2023
39
1
40
2
3
4
5
6
7
8
41
9
10
11
12
13
14
15
42
16
17
18
19
20
21
22
43
23
24
25
26
27
28
29
44
30
31
November 2023
44
1
2
3
4
5
45
6
7
8
9
10
11
12
46
13
14
15
16
17
18
19
47
20
21
22
23
24
25
26
48
27
28
29
30
December 2023
48
1
2
3
49
4
5
6
7
8
9
10
50
11
12
13
14
15
16
17
51
18
19
20
21
22
23
24
52
25
26
27
28
29
30
31
January 2024
01
1
2
3
4
5
6
7
02
8
9
10
11
12
13
14
03
15
16
17
18
19
20
21
04
22
23
24
25
26
27
28
05
29
30
31
Location