Sun Train Zeeland - Attraction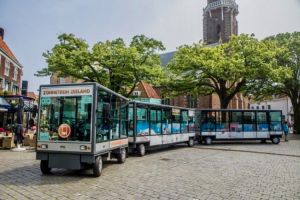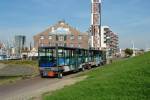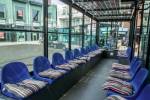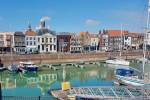 The Sun Train Zeeland rides several great routes with a modern solar train, that connects public transportation (train, Breskens ferry) and parking lots with the down town area and touristic attractions.
From 10:00am to 12:30pm shuttle services to the Flushing town center, from 12:30pm to 5:30pm the touristic route that takes an hour is driven. In the high season, seven days per week, off season only weekends. The train runs on solar energy is emission-free and hardly makes any noise. The passengers have a wide view and the route shows Flushing in all its facets.
High Season:
From May to September: daily from 10.00am to 5:30 pm.
Preseason:
From April to May: Saturday and Sunday.
Postseason:
From October to November: Saturday and Sunday.
Furthermore Sun Train Zeeland is near the following sights: Reptile Zoo Iguana (±150 m), Maritime MuZEEum Zeeland (±225 m), Gaming Factory (±300 m), Cine City (±400 m) & Children's Playground Ballorig (±1,5 km).
For information:
Oude Markt 45, Vlissingen
tel. +31 651 214 269
web.
More information