Villa Zoutelande – logies en ontbijt - Bed (and breakfast)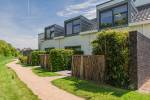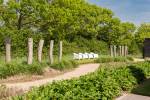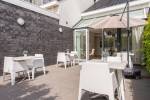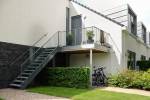 Ons gastenverblijf Villa Zoutelande is gelegen in een rustige omgeving op loopafstand (400m) van het strand en het centrum. Zoutelande is een gezellige familiebadplaats gelegen aan de Zeeuwse Riviera met de meeste zonuren van Nederland. Vier van onze 2 persoonskamers bevinden zich op de begane grond. Ze zijn voorzien van boxsprings en hebben via een schuifpui toegang tot een eigen terras met terrasmeubelen. Er is één 2 persoonskamer op de eerste verdieping, uiteraard ook voorzien van een boxspring. Deze kamer heeft een eigen dakterras en trapopgang. Als u hier logeert dan kunt u ook gebruik maken van het terras bij de ontbijt- en loungeruimte. Alle kamers beschikken over een eigen badkamer met wastafel, inloopdouche en toilet. U kunt op uw eigen kamer tv kijken of in de loungeruimte of tuin met andere gasten samen zijn. Er zijn koffie- en thee faciliteiten en gebruik van een koelkast. Alle kamers worden verhuurd inclusief ontbijt. Er mag op de kamers niet gerookt worden en huisdieren zijn niet toegestaan. Onze accommodatie is niet geschikt voor jonge kinderen en niet voor groepen.

Faciliteiten:
Comfortabele boxspring bedden (lengte 210 cm)
Flatscreen TV
Eigen badkamer met inloopdouche, toilet, badproducten en föhn
Schuifpui naar eigen terras met tuinmeubelen
Uitgebreid ontbijt
Koffie en thee faciliteiten
Gratis royale parkeergelegenheid op eigen terrein
Gratis WIFI

Overige informatie:
Oppervlakte kamer: 25 m2
Aantal personen: 2
Afstand strand: 350 meter
Afstand dorpscentrum: 350 meter
Tarief kamer per nacht voor 2 personen (incl. ontbijt en excl. lokale belasting): vanaf € 91,00
For information and reservation
Villa Zoutelande
Molenweg 46 A, Zoutelande
tel. +31 118 435 876
mail.
E-mail
web.
Website
Characteristics
Price indication: €45,50 to €64,00 per night per person.
Max. 2 personen.
Floor space: ±25 m².
Pets not allowed.
No smoking.
Media
Wi-Fi internet.
TV.
Foreign TV channels.
Outside
Garden.
Terrace.
Garden furniture.
Car parking place.
Bicycle storage.
Location
Distance to the beach: ±400 m.
Distance to the city centre: ±400 m.
Not on holiday park.
Occupancy rate
October 2022
39
1
2
40
3
4
5
6
7
8
9
41
10
11
12
13
14
15
16
42
17
18
19
20
21
22
23
43
24
25
26
27
28
29
30
44
31
November 2022
44
1
2
3
4
5
6
45
7
8
9
10
11
12
13
46
14
15
16
17
18
19
20
47
21
22
23
24
25
26
27
48
28
29
30
December 2022
48
1
2
3
4
49
5
6
7
8
9
10
11
50
12
13
14
15
16
17
18
51
19
20
21
22
23
24
25
52
26
27
28
29
30
31
January 2023
52
1
01
2
3
4
5
6
7
8
02
9
10
11
12
13
14
15
03
16
17
18
19
20
21
22
04
23
24
25
26
27
28
29
05
30
31
February 2023
05
1
2
3
4
5
06
6
7
8
9
10
11
12
07
13
14
15
16
17
18
19
08
20
21
22
23
24
25
26
09
27
28
March 2023
09
1
2
3
4
5
10
6
7
8
9
10
11
12
11
13
14
15
16
17
18
19
12
20
21
22
23
24
25
26
13
27
28
29
30
31
April 2023
13
1
2
14
3
4
5
6
7
8
9
15
10
11
12
13
14
15
16
16
17
18
19
20
21
22
23
17
24
25
26
27
28
29
30
May 2023
18
1
2
3
4
5
6
7
19
8
9
10
11
12
13
14
20
15
16
17
18
19
20
21
21
22
23
24
25
26
27
28
22
29
30
31
June 2023
22
1
2
3
4
23
5
6
7
8
9
10
11
24
12
13
14
15
16
17
18
25
19
20
21
22
23
24
25
26
26
27
28
29
30
July 2023
26
1
2
27
3
4
5
6
7
8
9
28
10
11
12
13
14
15
16
29
17
18
19
20
21
22
23
30
24
25
26
27
28
29
30
31
31
August 2023
31
1
2
3
4
5
6
32
7
8
9
10
11
12
13
33
14
15
16
17
18
19
20
34
21
22
23
24
25
26
27
35
28
29
30
31
September 2023
35
1
2
3
36
4
5
6
7
8
9
10
37
11
12
13
14
15
16
17
38
18
19
20
21
22
23
24
39
25
26
27
28
29
30
October 2023
39
1
40
2
3
4
5
6
7
8
41
9
10
11
12
13
14
15
42
16
17
18
19
20
21
22
43
23
24
25
26
27
28
29
44
30
31
November 2023
44
1
2
3
4
5
45
6
7
8
9
10
11
12
46
13
14
15
16
17
18
19
47
20
21
22
23
24
25
26
48
27
28
29
30
December 2023
48
1
2
3
49
4
5
6
7
8
9
10
50
11
12
13
14
15
16
17
51
18
19
20
21
22
23
24
52
25
26
27
28
29
30
31
January 2024
01
1
2
3
4
5
6
7
02
8
9
10
11
12
13
14
03
15
16
17
18
19
20
21
04
22
23
24
25
26
27
28
05
29
30
31
Location