Nieuwstraat 46 - Cottage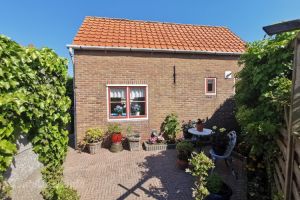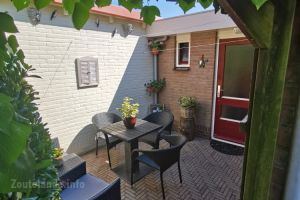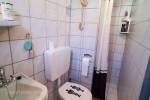 Het zomerhuisje staat achter het woonhuis. Het is gezellig en knus ingericht en is verwarmd met een gevelkachel. Het huisje staat dicht bij het centrum, zee en strand. Het is te huur van half maart tot 1 november.

maximum number of persons: 3
Total size: 37 m²
size garden/terrace: 14 m²
size living room: 15 m²
number of bedrooms: 2
numbers of toilets: 1
shower: yes
refrigerator: yes
TV: yes
child's bed: yes
garden chair: yes
weekend rent: yes

Rates :
180 tot 285 Euro per week
For information and reservation
M.Kleinepier-Hartjes
Nieuwstraat 46, Zoutelande
tel. 062 912 085 2
mob. 062 912 085 2
mail.
E-mail
Characteristics
Price indication: €220,00 to €285,00 per week.
Max. 3 personen.
Floor space: ±37 m².
Pets allowed after consultation.
No smoking.
Kitchen
Refrigerator.
Freezer compartment.
Coffee machine.
Water boiler.
Microwave.
Child Facilities
High chair (child/baby chair).
Cot / child's bed.
Outside
Garden.
Terrace.
Garden furniture.
Location
Distance to the beach: ±350 m.
Distance to the city centre: ±250 m.
Occupancy rate
January 2021
53
1
2
3
01
4
5
6
7
8
9
10
02
11
12
13
14
15
16
17
03
18
19
20
21
22
23
24
04
25
26
27
28
29
30
31
February 2021
05
1
2
3
4
5
6
7
06
8
9
10
11
12
13
14
07
15
16
17
18
19
20
21
08
22
23
24
25
26
27
28
March 2021
09
1
2
3
4
5
6
7
10
8
9
10
11
12
13
14
11
15
16
17
18
19
20
21
12
22
23
24
25
26
27
28
13
29
30
31
April 2021
13
1
2
3
4
14
5
6
7
8
9
10
11
15
12
13
14
15
16
17
18
16
19
20
21
22
23
24
25
17
26
27
28
29
30
May 2021
17
1
2
18
3
4
5
6
7
8
9
19
10
11
12
13
14
15
16
20
17
18
19
20
21
22
23
21
24
25
26
27
28
29
30
22
31
June 2021
22
1
2
3
4
5
6
23
7
8
9
10
11
12
13
24
14
15
16
17
18
19
20
25
21
22
23
24
25
26
27
26
28
29
30
July 2021
26
1
2
3
4
27
5
6
7
8
9
10
11
28
12
13
14
15
16
17
18
29
19
20
21
22
23
24
25
30
26
27
28
29
30
31
August 2021
30
1
31
2
3
4
5
6
7
8
32
9
10
11
12
13
14
15
33
16
17
18
19
20
21
22
34
23
24
25
26
27
28
29
35
30
31
September 2021
35
1
2
3
4
5
36
6
7
8
9
10
11
12
37
13
14
15
16
17
18
19
38
20
21
22
23
24
25
26
39
27
28
29
30
October 2021
39
1
2
3
40
4
5
6
7
8
9
10
41
11
12
13
14
15
16
17
42
18
19
20
21
22
23
24
43
25
26
27
28
29
30
31
November 2021
44
1
2
3
4
5
6
7
45
8
9
10
11
12
13
14
46
15
16
17
18
19
20
21
47
22
23
24
25
26
27
28
48
29
30
December 2021
48
1
2
3
4
5
49
6
7
8
9
10
11
12
50
13
14
15
16
17
18
19
51
20
21
22
23
24
25
26
52
27
28
29
30
31
January 2022
52
1
2
01
3
4
5
6
7
8
9
02
10
11
12
13
14
15
16
03
17
18
19
20
21
22
23
04
24
25
26
27
28
29
30
05
31
Location