Zoetenaar Zoutelande - Cottage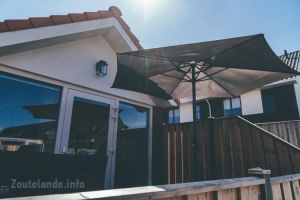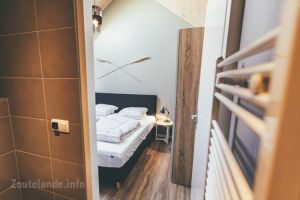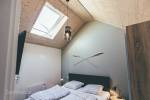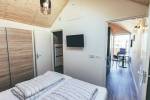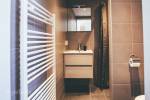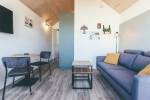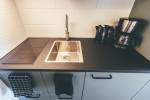 New in Zoutelande - Rented since May 2020!

This new holiday home, De Zoetenaar, is located in the quiet residential area of ​​De Tienden II for 2 people.
The house is completely new, tastefully and above all practically furnished, so fully equipped.

The holiday home has its own entrance which you enter through the terrace / garden. On the terrace you can quietly enjoy the comfortable garden set, including a parasol. You can also place 2 bicycles here if desired.

The holiday home only has a ground floor. When you step inside you are directly in the sitting area consisting of a 2 person sofa, 2 small tables, a dining table and 2 dining chairs. You can also use the modern TV, where you can log in to your Netflix / Videoland account, watch Youtube, or choose from the many (radio) channels.

This is followed by the beautiful kitchen with hob, fridge-freezer, oven-combi microwave, coffee maker, kettle and various extras.
After the kitchen you enter the bedroom through the bedroom door.

The bedroom offers sleeping space for 2 people on 2 single beds, a spacious wardrobe, and you can also watch TV here when you wake up or before going to sleep. An automatic velux skylight with awning provides sufficient light / darkness and ventilation.

A luxurious bathroom with rain shower completes the Zoetenaar in Zoutelande!
For information and reservation
Alfaro en Karlien
Nieuwe Land 18, Zoutelande
tel. +31 643 949 073
mail.
E-mail
web.
Website
Characteristics
Price indication: €300,00 to €650,00 per week.
Max. 2 personen.

Bedrooms: 1.
Bedden: 2.
Bathrooms: 1.

Floor space: ±32 m².
Pets not allowed.
No smoking.
Kitchen
Refrigerator.
Freezer compartment.
Coffee machine.
Water boiler.
Microwave.
Combi microwave.
Media
Wi-Fi internet.
TV.
Foreign TV channels.
Radio.
Outside
Garden.
Terrace.
Garden furniture.
Location
Distance to the beach: ±500 m.
Distance to the city centre: ±500 m.
Not on holiday park.
Detached.
Occupancy rate
October 2022
39
1
2
40
3
4
5
6
7
8
9
41
10
11
12
13
14
15
16
42
17
18
19
20
21
22
23
43
24
25
26
27
28
29
30
44
31
November 2022
44
1
2
3
4
5
6
45
7
8
9
10
11
12
13
46
14
15
16
17
18
19
20
47
21
22
23
24
25
26
27
48
28
29
30
December 2022
48
1
2
3
4
49
5
6
7
8
9
10
11
50
12
13
14
15
16
17
18
51
19
20
21
22
23
24
25
52
26
27
28
29
30
31
January 2023
52
1
01
2
3
4
5
6
7
8
02
9
10
11
12
13
14
15
03
16
17
18
19
20
21
22
04
23
24
25
26
27
28
29
05
30
31
February 2023
05
1
2
3
4
5
06
6
7
8
9
10
11
12
07
13
14
15
16
17
18
19
08
20
21
22
23
24
25
26
09
27
28
March 2023
09
1
2
3
4
5
10
6
7
8
9
10
11
12
11
13
14
15
16
17
18
19
12
20
21
22
23
24
25
26
13
27
28
29
30
31
April 2023
13
1
2
14
3
4
5
6
7
8
9
15
10
11
12
13
14
15
16
16
17
18
19
20
21
22
23
17
24
25
26
27
28
29
30
May 2023
18
1
2
3
4
5
6
7
19
8
9
10
11
12
13
14
20
15
16
17
18
19
20
21
21
22
23
24
25
26
27
28
22
29
30
31
June 2023
22
1
2
3
4
23
5
6
7
8
9
10
11
24
12
13
14
15
16
17
18
25
19
20
21
22
23
24
25
26
26
27
28
29
30
July 2023
26
1
2
27
3
4
5
6
7
8
9
28
10
11
12
13
14
15
16
29
17
18
19
20
21
22
23
30
24
25
26
27
28
29
30
31
31
August 2023
31
1
2
3
4
5
6
32
7
8
9
10
11
12
13
33
14
15
16
17
18
19
20
34
21
22
23
24
25
26
27
35
28
29
30
31
September 2023
35
1
2
3
36
4
5
6
7
8
9
10
37
11
12
13
14
15
16
17
38
18
19
20
21
22
23
24
39
25
26
27
28
29
30
October 2023
39
1
40
2
3
4
5
6
7
8
41
9
10
11
12
13
14
15
42
16
17
18
19
20
21
22
43
23
24
25
26
27
28
29
44
30
31
November 2023
44
1
2
3
4
5
45
6
7
8
9
10
11
12
46
13
14
15
16
17
18
19
47
20
21
22
23
24
25
26
48
27
28
29
30
December 2023
48
1
2
3
49
4
5
6
7
8
9
10
50
11
12
13
14
15
16
17
51
18
19
20
21
22
23
24
52
25
26
27
28
29
30
31
January 2024
01
1
2
3
4
5
6
7
02
8
9
10
11
12
13
14
03
15
16
17
18
19
20
21
04
22
23
24
25
26
27
28
05
29
30
31
Location