Nieuwe Land 10a - ZWI75 - Cottage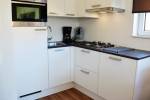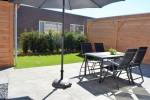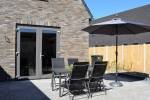 Deze zeer comfortabele woning, deel van een vrijstaand huis, is gelegen op minder dan 5 minuten loopafstand van het zonnige zuiderstrand en het gezellige dorp Zoutelande, waar vooral in de zomer verschillende activiteiten georganiseerd worden. Deze vakantiewoning is voorzien van een open keuken, badkamer met stortdouche, twee aparte toiletten, twee slaapkamers, PVC-vloeren en een gezellig zonnig terras. De bedden zijn bij uw aankomst opgemaakt. Via openslaande deuren bereikt u het besloten terras en tuin met een eigen berging. In deze berging kunnen elektrische fietsen opgeladen worden.
For information and reservation
Sea & Sun Holiday
Nieuwe Land 10a, Zoutelande
tel. +31 118 584 453
mail.
E-mail
web.
Website
Characteristics
Price indication: €350,00 to €725,00 per week.
Max. 4 personen.

Bedrooms: 2.
Bedden: 4.
Bathrooms: 1.

Floor space: ±60 m².
Pets not allowed.
No smoking.
Washing machine.
Kitchen
Refrigerator.
Freezer compartment.
Coffee machine.
Water boiler.
Toaster.
Dishwasher.
Combi microwave.
Sanitary
Shower.
Toilet.
Second toilet.
Sink.
Media
Wi-Fi internet.
TV.
Foreign TV channels.
DVD-player.
Radio.
Child Facilities
High chair (child/baby chair).
Campingbed.
Stair gate.
Outside
Garden.
Terrace.
Garden furniture.
Car parking place.
Bicycle storage.
Storage room.
Location
Distance to the beach: ±400 m.
Distance to the city centre: ±350 m.
Not on holiday park.
Occupancy rate
October 2022
39
1
2
40
3
4
5
6
7
8
9
41
10
11
12
13
14
15
16
42
17
18
19
20
21
22
23
43
24
25
26
27
28
29
30
44
31
November 2022
44
1
2
3
4
5
6
45
7
8
9
10
11
12
13
46
14
15
16
17
18
19
20
47
21
22
23
24
25
26
27
48
28
29
30
December 2022
48
1
2
3
4
49
5
6
7
8
9
10
11
50
12
13
14
15
16
17
18
51
19
20
21
22
23
24
25
52
26
27
28
29
30
31
January 2023
52
1
01
2
3
4
5
6
7
8
02
9
10
11
12
13
14
15
03
16
17
18
19
20
21
22
04
23
24
25
26
27
28
29
05
30
31
February 2023
05
1
2
3
4
5
06
6
7
8
9
10
11
12
07
13
14
15
16
17
18
19
08
20
21
22
23
24
25
26
09
27
28
March 2023
09
1
2
3
4
5
10
6
7
8
9
10
11
12
11
13
14
15
16
17
18
19
12
20
21
22
23
24
25
26
13
27
28
29
30
31
April 2023
13
1
2
14
3
4
5
6
7
8
9
15
10
11
12
13
14
15
16
16
17
18
19
20
21
22
23
17
24
25
26
27
28
29
30
May 2023
18
1
2
3
4
5
6
7
19
8
9
10
11
12
13
14
20
15
16
17
18
19
20
21
21
22
23
24
25
26
27
28
22
29
30
31
June 2023
22
1
2
3
4
23
5
6
7
8
9
10
11
24
12
13
14
15
16
17
18
25
19
20
21
22
23
24
25
26
26
27
28
29
30
July 2023
26
1
2
27
3
4
5
6
7
8
9
28
10
11
12
13
14
15
16
29
17
18
19
20
21
22
23
30
24
25
26
27
28
29
30
31
31
August 2023
31
1
2
3
4
5
6
32
7
8
9
10
11
12
13
33
14
15
16
17
18
19
20
34
21
22
23
24
25
26
27
35
28
29
30
31
September 2023
35
1
2
3
36
4
5
6
7
8
9
10
37
11
12
13
14
15
16
17
38
18
19
20
21
22
23
24
39
25
26
27
28
29
30
October 2023
39
1
40
2
3
4
5
6
7
8
41
9
10
11
12
13
14
15
42
16
17
18
19
20
21
22
43
23
24
25
26
27
28
29
44
30
31
November 2023
44
1
2
3
4
5
45
6
7
8
9
10
11
12
46
13
14
15
16
17
18
19
47
20
21
22
23
24
25
26
48
27
28
29
30
December 2023
48
1
2
3
49
4
5
6
7
8
9
10
50
11
12
13
14
15
16
17
51
18
19
20
21
22
23
24
52
25
26
27
28
29
30
31
January 2024
01
1
2
3
4
5
6
7
02
8
9
10
11
12
13
14
03
15
16
17
18
19
20
21
04
22
23
24
25
26
27
28
05
29
30
31
Location