Sylt Zoutelande - Cottage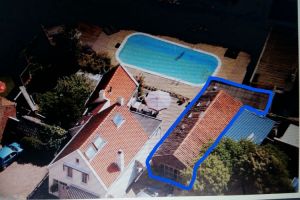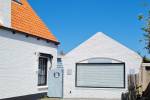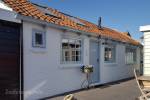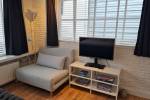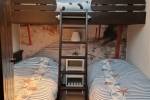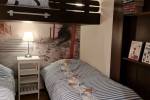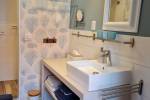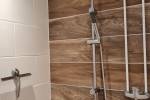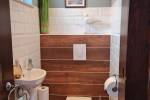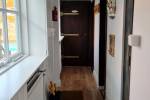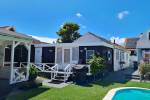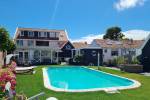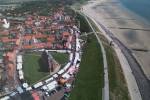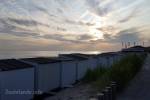 Recently renovated 2 bedroom holiday let(max 4 adults and 1 child) in the centre of Zoutelande, situated at 250 m from the beach and within walking distance from the local shops and restaurants.

The holiday home has 2 bedrooms; 1 bedroom with a double box spring bed (with plenty of space for a travel cot) and 1 bedroom with 2 single box spring beds and a loft bed.
Bathroom with shower and sink, separate toilet, living room with TV/DVD player, dining area with door to terrace/garden and kitchen with gas cooker, dishwasher, combi-microwave (oven and grill), fridge with freezer compartment, coffee machine, senseo machine, kettle and cupboard space.
Central heating in the living room, dining area, hall and 1 bedroom.

Free car park space.
Nice sunny garden with swimming pool, roofed terrace with seating area, BBQ and bicycle space.
Sheets, bathroom and kitchen towels are inclusive.
Baby travel cot and highchair are available on request.
Not suitable for wheelchair users.
Free WIFI.
For information and reservation
Inge Vets
Timmermansstraat 30, Zoutelande
tel. +31 628 430 361
mail.
E-mail
web.
Website
Characteristics
Price indication: €350,00 to €750,00 per week.
Max. 5 personen.

Bedrooms: 2.
Bedden: 3.
Stapelbed.
Bathrooms: 1.

Floor space: ±16 m².
Pets allowed after consultation.
No smoking.
Safebox.
Kitchen
Refrigerator.
Freezer compartment.
Coffee machine.
Water boiler.
Toaster.
Citrus press.
Dishwasher.
Combi microwave.
Media
Wi-Fi internet.
TV.
Foreign TV channels.
DVD-player.
Radio.
Child Facilities
High chair (child/baby chair).
Campingbed.
Cot / child's bed.
Outside
Garden.
Terrace.
Balcony.
Garden furniture.
Lounge set.
Car parking place.
Bicycle storage.
BBQ.
Location
Distance to the beach: ±200 m.
Distance to the city centre: ±100 m.
Not on holiday park.
Detached.
Occupancy rate
September 2022
35
1
2
3
4
36
5
6
7
8
9
10
11
37
12
13
14
15
16
17
18
38
19
20
21
22
23
24
25
39
26
27
28
29
30
October 2022
39
1
2
40
3
4
5
6
7
8
9
41
10
11
12
13
14
15
16
42
17
18
19
20
21
22
23
43
24
25
26
27
28
29
30
44
31
November 2022
44
1
2
3
4
5
6
45
7
8
9
10
11
12
13
46
14
15
16
17
18
19
20
47
21
22
23
24
25
26
27
48
28
29
30
December 2022
48
1
2
3
4
49
5
6
7
8
9
10
11
50
12
13
14
15
16
17
18
51
19
20
21
22
23
24
25
52
26
27
28
29
30
31
January 2023
52
1
01
2
3
4
5
6
7
8
02
9
10
11
12
13
14
15
03
16
17
18
19
20
21
22
04
23
24
25
26
27
28
29
05
30
31
February 2023
05
1
2
3
4
5
06
6
7
8
9
10
11
12
07
13
14
15
16
17
18
19
08
20
21
22
23
24
25
26
09
27
28
March 2023
09
1
2
3
4
5
10
6
7
8
9
10
11
12
11
13
14
15
16
17
18
19
12
20
21
22
23
24
25
26
13
27
28
29
30
31
April 2023
13
1
2
14
3
4
5
6
7
8
9
15
10
11
12
13
14
15
16
16
17
18
19
20
21
22
23
17
24
25
26
27
28
29
30
May 2023
18
1
2
3
4
5
6
7
19
8
9
10
11
12
13
14
20
15
16
17
18
19
20
21
21
22
23
24
25
26
27
28
22
29
30
31
June 2023
22
1
2
3
4
23
5
6
7
8
9
10
11
24
12
13
14
15
16
17
18
25
19
20
21
22
23
24
25
26
26
27
28
29
30
July 2023
26
1
2
27
3
4
5
6
7
8
9
28
10
11
12
13
14
15
16
29
17
18
19
20
21
22
23
30
24
25
26
27
28
29
30
31
31
August 2023
31
1
2
3
4
5
6
32
7
8
9
10
11
12
13
33
14
15
16
17
18
19
20
34
21
22
23
24
25
26
27
35
28
29
30
31
September 2023
35
1
2
3
36
4
5
6
7
8
9
10
37
11
12
13
14
15
16
17
38
18
19
20
21
22
23
24
39
25
26
27
28
29
30
October 2023
39
1
40
2
3
4
5
6
7
8
41
9
10
11
12
13
14
15
42
16
17
18
19
20
21
22
43
23
24
25
26
27
28
29
44
30
31
November 2023
44
1
2
3
4
5
45
6
7
8
9
10
11
12
46
13
14
15
16
17
18
19
47
20
21
22
23
24
25
26
48
27
28
29
30
December 2023
48
1
2
3
49
4
5
6
7
8
9
10
50
11
12
13
14
15
16
17
51
18
19
20
21
22
23
24
52
25
26
27
28
29
30
31
January 2024
01
1
2
3
4
5
6
7
02
8
9
10
11
12
13
14
03
15
16
17
18
19
20
21
04
22
23
24
25
26
27
28
05
29
30
31
February 2024
05
1
2
3
4
06
5
6
7
8
9
10
11
07
12
13
14
15
16
17
18
08
19
20
21
22
23
24
25
09
26
27
28
29
March 2024
09
1
2
3
10
4
5
6
7
8
9
10
11
11
12
13
14
15
16
17
12
18
19
20
21
22
23
24
13
25
26
27
28
29
30
31
April 2024
14
1
2
3
4
5
6
7
15
8
9
10
11
12
13
14
16
15
16
17
18
19
20
21
17
22
23
24
25
26
27
28
18
29
30
May 2024
18
1
2
3
4
5
19
6
7
8
9
10
11
12
20
13
14
15
16
17
18
19
21
20
21
22
23
24
25
26
22
27
28
29
30
31
June 2024
22
1
2
23
3
4
5
6
7
8
9
24
10
11
12
13
14
15
16
25
17
18
19
20
21
22
23
26
24
25
26
27
28
29
30
July 2024
27
1
2
3
4
5
6
7
28
8
9
10
11
12
13
14
29
15
16
17
18
19
20
21
30
22
23
24
25
26
27
28
31
29
30
31
August 2024
31
1
2
3
4
32
5
6
7
8
9
10
11
33
12
13
14
15
16
17
18
34
19
20
21
22
23
24
25
35
26
27
28
29
30
31
September 2024
35
1
36
2
3
4
5
6
7
8
37
9
10
11
12
13
14
15
38
16
17
18
19
20
21
22
39
23
24
25
26
27
28
29
40
30
October 2024
40
1
2
3
4
5
6
41
7
8
9
10
11
12
13
42
14
15
16
17
18
19
20
43
21
22
23
24
25
26
27
44
28
29
30
31
November 2024
44
1
2
3
45
4
5
6
7
8
9
10
46
11
12
13
14
15
16
17
47
18
19
20
21
22
23
24
48
25
26
27
28
29
30
December 2024
48
1
49
2
3
4
5
6
7
8
50
9
10
11
12
13
14
15
51
16
17
18
19
20
21
22
52
23
24
25
26
27
28
29
01
30
31
January 2025
01
1
2
3
4
5
02
6
7
8
9
10
11
12
03
13
14
15
16
17
18
19
04
20
21
22
23
24
25
26
05
27
28
29
30
31
February 2025
05
1
2
06
3
4
5
6
7
8
9
07
10
11
12
13
14
15
16
08
17
18
19
20
21
22
23
09
24
25
26
27
28
March 2025
09
1
2
10
3
4
5
6
7
8
9
11
10
11
12
13
14
15
16
12
17
18
19
20
21
22
23
13
24
25
26
27
28
29
30
14
31
April 2025
14
1
2
3
4
5
6
15
7
8
9
10
11
12
13
16
14
15
16
17
18
19
20
17
21
22
23
24
25
26
27
18
28
29
30
May 2025
18
1
2
3
4
19
5
6
7
8
9
10
11
20
12
13
14
15
16
17
18
21
19
20
21
22
23
24
25
22
26
27
28
29
30
31
June 2025
22
1
23
2
3
4
5
6
7
8
24
9
10
11
12
13
14
15
25
16
17
18
19
20
21
22
26
23
24
25
26
27
28
29
27
30
July 2025
27
1
2
3
4
5
6
28
7
8
9
10
11
12
13
29
14
15
16
17
18
19
20
30
21
22
23
24
25
26
27
31
28
29
30
31
August 2025
31
1
2
3
32
4
5
6
7
8
9
10
33
11
12
13
14
15
16
17
34
18
19
20
21
22
23
24
35
25
26
27
28
29
30
31
September 2025
36
1
2
3
4
5
6
7
37
8
9
10
11
12
13
14
38
15
16
17
18
19
20
21
39
22
23
24
25
26
27
28
40
29
30
October 2025
40
1
2
3
4
5
41
6
7
8
9
10
11
12
42
13
14
15
16
17
18
19
43
20
21
22
23
24
25
26
44
27
28
29
30
31
Location