De Spaier 3a - Cottage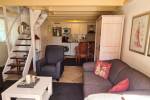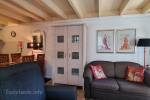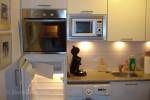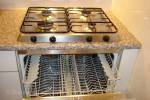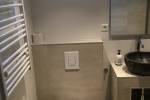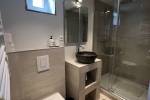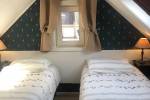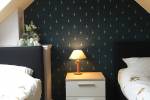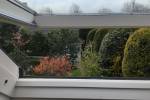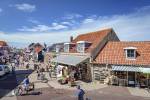 Detached holiday house in a quiet area. It is comfortable and cosy. The entire House is equipped with central heating.ground floor: toilet, shower and sink.
- Free internet (W-Lan WiFi)
- 400 metres of south beach/dunes/forest and the centre of Zoutelande.
The housing is suitable for 2-4 persons.
- 2 Bedrooms (first floor). 4 single beds (4 x Boxspring

- Tiled terrace with table and chairs,table, parasol and sun loungers.
- 2nd terrace facing South-West table and chairs, parasol.
- Private parking space.
- living room with open kitchen/dining area
- Flatscreen cable tv (BBC1,2,CNN etc-
- Nerflix
- WiFi (internet)
- DVD/ Radio
- Washing machine
- bathroom with shower, toilet and sink.
- Kitchen is fully equipped with all conveniences
- fridge (freezer tray)
- 4 hotplates,
- Microwave
- Oven
- Dishwasher
- coffee maker, Senseo device.
- childs bed:
- Bedroom 1: 2x boxspring 90 x 200 cm
- Bedroom 2: 2x boxspring 90 x 200 cm
* All beds are equipped with single duvets and pillows
* linen/towels you can Bring itself, but is also for rent.
Rent is inclucing gas,- energy/internet/ and water.
Arrival day ( high season) is Friday after 14.00 pm and departure is before 10.00 on Friday.
Outside the high season hire from 2 nights
Children from the age of 12
For information and reservation
M. Korstanje-de Nijs
De Spaier 3, Zoutelande
tel. (0) 118 566 170
mob. 061 019 767 4
mail.
E-mail
Characteristics
Max. 4 personen.

Bedrooms: 2.
Bedden: 4.
Bathrooms: 1.

Floor space: ±55 m².
Pets not allowed.
No smoking.
Washing machine.
Safebox.
Kitchen
Refrigerator.
Freezer compartment.
Coffee machine.
Water boiler.
Dishwasher.
Oven.
Microwave.
Combi microwave.
Media
Wi-Fi internet.
TV.
Foreign TV channels.
DVD-player.
Radio.
CD-player.
Outside
Garden.
Terrace.
Garden furniture.
Lounge set.
Car parking place.
Bicycle storage.
BBQ.
Location
Distance to the beach: ±400 m.
Distance to the city centre: ±400 m.
Not on holiday park.
By the sea.
Detached.
Occupancy rate
September 2022
35
1
2
3
4
36
5
6
7
8
9
10
11
37
12
13
14
15
16
17
18
38
19
20
21
22
23
24
25
39
26
27
28
29
30
October 2022
39
1
2
40
3
4
5
6
7
8
9
41
10
11
12
13
14
15
16
42
17
18
19
20
21
22
23
43
24
25
26
27
28
29
30
44
31
November 2022
44
1
2
3
4
5
6
45
7
8
9
10
11
12
13
46
14
15
16
17
18
19
20
47
21
22
23
24
25
26
27
48
28
29
30
December 2022
48
1
2
3
4
49
5
6
7
8
9
10
11
50
12
13
14
15
16
17
18
51
19
20
21
22
23
24
25
52
26
27
28
29
30
31
January 2023
52
1
01
2
3
4
5
6
7
8
02
9
10
11
12
13
14
15
03
16
17
18
19
20
21
22
04
23
24
25
26
27
28
29
05
30
31
February 2023
05
1
2
3
4
5
06
6
7
8
9
10
11
12
07
13
14
15
16
17
18
19
08
20
21
22
23
24
25
26
09
27
28
March 2023
09
1
2
3
4
5
10
6
7
8
9
10
11
12
11
13
14
15
16
17
18
19
12
20
21
22
23
24
25
26
13
27
28
29
30
31
April 2023
13
1
2
14
3
4
5
6
7
8
9
15
10
11
12
13
14
15
16
16
17
18
19
20
21
22
23
17
24
25
26
27
28
29
30
May 2023
18
1
2
3
4
5
6
7
19
8
9
10
11
12
13
14
20
15
16
17
18
19
20
21
21
22
23
24
25
26
27
28
22
29
30
31
June 2023
22
1
2
3
4
23
5
6
7
8
9
10
11
24
12
13
14
15
16
17
18
25
19
20
21
22
23
24
25
26
26
27
28
29
30
July 2023
26
1
2
27
3
4
5
6
7
8
9
28
10
11
12
13
14
15
16
29
17
18
19
20
21
22
23
30
24
25
26
27
28
29
30
31
31
August 2023
31
1
2
3
4
5
6
32
7
8
9
10
11
12
13
33
14
15
16
17
18
19
20
34
21
22
23
24
25
26
27
35
28
29
30
31
September 2023
35
1
2
3
36
4
5
6
7
8
9
10
37
11
12
13
14
15
16
17
38
18
19
20
21
22
23
24
39
25
26
27
28
29
30
October 2023
39
1
40
2
3
4
5
6
7
8
41
9
10
11
12
13
14
15
42
16
17
18
19
20
21
22
43
23
24
25
26
27
28
29
44
30
31
November 2023
44
1
2
3
4
5
45
6
7
8
9
10
11
12
46
13
14
15
16
17
18
19
47
20
21
22
23
24
25
26
48
27
28
29
30
December 2023
48
1
2
3
49
4
5
6
7
8
9
10
50
11
12
13
14
15
16
17
51
18
19
20
21
22
23
24
52
25
26
27
28
29
30
31
January 2024
01
1
2
3
4
5
6
7
02
8
9
10
11
12
13
14
03
15
16
17
18
19
20
21
04
22
23
24
25
26
27
28
05
29
30
31
Offers and Lastminutes
– : from €140 for €100 per night
Location