Mariekerke - Cottage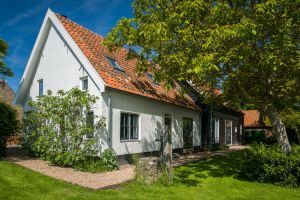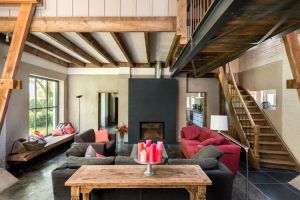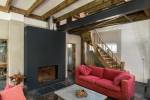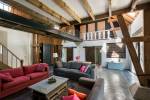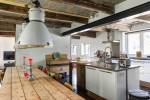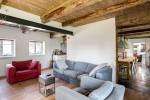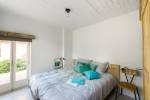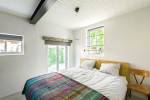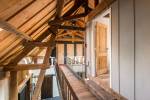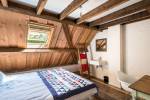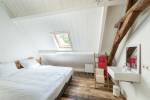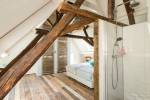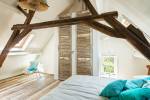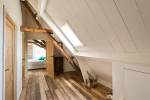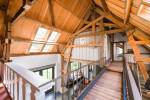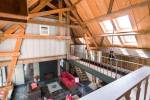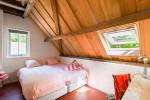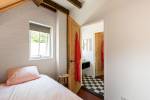 Providing a fantastic view of the landscape all round, our Zeeland family home is situated at a unique and idyllic location in the centre of the island of Walcheren, close to the sea and the beach, on the edge of a village called Mariekerke.

We renovated the house (1880) extensively in 2013 and, respecting its history, converted it into a modern and comfortable family home providing plenty of space and luxury and enabling us to relax and enjoy our holidays to the full. And, of course, you too!! Not surprisingly, key words are space and quietness both indoors (250 m2) and outdoors
(2850 m2).

The family home comprises a main building and two outhouses, situated round a beautiful garden. The main building has seven bedrooms (14 beds and 1 child's bed), which means that it can accommodate 14 persons maximum. Downstairs the house is divided into three large separate rooms and a sleeping unit consisting of two bedrooms, a bathroom and a toilet:

The heart of the house is the high living room (formerly the barn) with a large fireplace and a wooden roof and walls. You can step into the garden through the French windows
The next room is the fully equipped kitchen-diner, also with French windows to the garden.
The room at the back is the so-called television room, where you can watch a film or read a book and enjoy the crackling of burning wood in the wood-burning stove.
There are three bathrooms with shower and fitted washbasin, three toilets and a scullery with a washing machine.
For information and reservation
Mevr. Evers, Mariekerke
tel. +31 645 748 635
mail.
E-mail
web.
Website
Characteristics
Max. 14 personen.

Bedrooms: 7.
Bedden: 14.
Bathrooms: 3.

Floor space: ±200 m².
Pets allowed after consultation.
No smoking.
Washing machine.
Fireplace.
Wood stove.
Kitchen
Refrigerator.
Freezer compartment.
Freezer.
Coffee machine.
Water boiler.
Toaster.
Dishwasher.
Oven.
Microwave.
Sanitary
Shower.
Sauna.
Second toilet.
Sink.
Outside
Garden.
Terrace.
Garden furniture.
Car parking place.
BBQ.
Location
Distance to the beach: ±4,2 km.
Not on holiday park.
Detached.
Occupancy rate
September 2022
35
1
2
3
4
36
5
6
7
8
9
10
11
37
12
13
14
15
16
17
18
38
19
20
21
22
23
24
25
39
26
27
28
29
30
October 2022
39
1
2
40
3
4
5
6
7
8
9
41
10
11
12
13
14
15
16
42
17
18
19
20
21
22
23
43
24
25
26
27
28
29
30
44
31
November 2022
44
1
2
3
4
5
6
45
7
8
9
10
11
12
13
46
14
15
16
17
18
19
20
47
21
22
23
24
25
26
27
48
28
29
30
December 2022
48
1
2
3
4
49
5
6
7
8
9
10
11
50
12
13
14
15
16
17
18
51
19
20
21
22
23
24
25
52
26
27
28
29
30
31
January 2023
52
1
01
2
3
4
5
6
7
8
02
9
10
11
12
13
14
15
03
16
17
18
19
20
21
22
04
23
24
25
26
27
28
29
05
30
31
February 2023
05
1
2
3
4
5
06
6
7
8
9
10
11
12
07
13
14
15
16
17
18
19
08
20
21
22
23
24
25
26
09
27
28
March 2023
09
1
2
3
4
5
10
6
7
8
9
10
11
12
11
13
14
15
16
17
18
19
12
20
21
22
23
24
25
26
13
27
28
29
30
31
April 2023
13
1
2
14
3
4
5
6
7
8
9
15
10
11
12
13
14
15
16
16
17
18
19
20
21
22
23
17
24
25
26
27
28
29
30
May 2023
18
1
2
3
4
5
6
7
19
8
9
10
11
12
13
14
20
15
16
17
18
19
20
21
21
22
23
24
25
26
27
28
22
29
30
31
June 2023
22
1
2
3
4
23
5
6
7
8
9
10
11
24
12
13
14
15
16
17
18
25
19
20
21
22
23
24
25
26
26
27
28
29
30
July 2023
26
1
2
27
3
4
5
6
7
8
9
28
10
11
12
13
14
15
16
29
17
18
19
20
21
22
23
30
24
25
26
27
28
29
30
31
31
August 2023
31
1
2
3
4
5
6
32
7
8
9
10
11
12
13
33
14
15
16
17
18
19
20
34
21
22
23
24
25
26
27
35
28
29
30
31
September 2023
35
1
2
3
36
4
5
6
7
8
9
10
37
11
12
13
14
15
16
17
38
18
19
20
21
22
23
24
39
25
26
27
28
29
30
October 2023
39
1
40
2
3
4
5
6
7
8
41
9
10
11
12
13
14
15
42
16
17
18
19
20
21
22
43
23
24
25
26
27
28
29
44
30
31
November 2023
44
1
2
3
4
5
45
6
7
8
9
10
11
12
46
13
14
15
16
17
18
19
47
20
21
22
23
24
25
26
48
27
28
29
30
December 2023
48
1
2
3
49
4
5
6
7
8
9
10
50
11
12
13
14
15
16
17
51
18
19
20
21
22
23
24
52
25
26
27
28
29
30
31
January 2024
01
1
2
3
4
5
6
7
02
8
9
10
11
12
13
14
03
15
16
17
18
19
20
21
04
22
23
24
25
26
27
28
05
29
30
31
Location