Zandput 26 - Cottage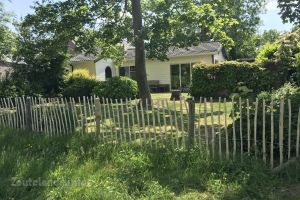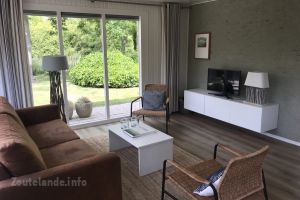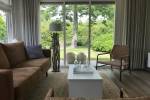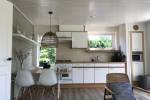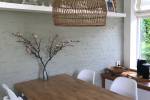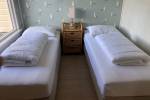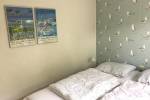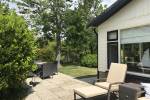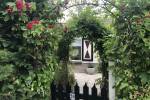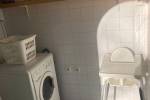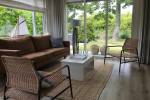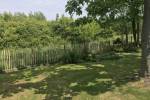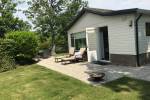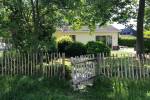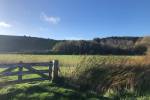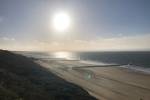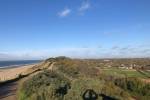 Modern furnished 4-person holiday home, located in a quiet location on the small-scale holiday park De Zandput, between Zoutelande and Westkapelle.

The holiday home is 600 meters from the most beautiful beach of the Zeeland coast.

The spacious, enclosed garden of the holiday home borders a nature reserve. The garden offers a lot of privacy. From the rear of the garden you can walk through the nature reserve to the dunes/beach in a maximum of 10 minutes.

The open kitchen is equipped with a gas stove (4-burner), microwave, oven, coffee machine and Nespresso. The kitchen is equipped with extensive crockery, good pans and mussel pans to make your own mussels.

The neat house has a cozy sitting room with a beautiful view of the garden, a central heating system (the house is heated pleasantly and quickly in winter) and laminate and PVC floors.
There are two bedrooms with box springs (2 single beds per room), and a bathroom with shower and toilet. In the utility room you will find the washer/dryer combination and a Weber BBQ and there is a separate storage room where you can store your bicycles and charge them if necessary. The house is fully central heating. Smoking is not allowed inside the house.

Rental prices per week:

- Period 8 January to 26 March: 450 euros per week
- Period 26 March to 16 April: 500 euros per week
- Period 16 to 30 April: 550 euros per week
- Period 30 April to 25 June: 600 euros per week
- 25 June to 2 July: 650 euros per week
- 2 July to 9 July: 700 euros per week
- Period 9 July to 20 Aug: 800 euros per week
- 20 to 27 Aug: 750 euros per week
- 27 Aug to 3 Sept: 650 euros per week
- 3 to 17 Sept: 600 euros per week
- Period 17 Sept to 15 Oct: 550 euros per week
- 15 to 22 Oct: 650 euros per week
- 22 to 29 Oct: 600 euros per week
- 29 Oct to 5 Nov: 550 euros per week
- Period 5 Nov to 24 Dec: 450 euros per week
- Period 24 Dec to 1 Jan: 600 euros per week
- Period 1 to 8 Jan: 660 euros per week

The cleaning costs are 65 euros per week and the reservation costs are 20 euros per reservation. In addition, the tourist tax and 30 euros is charged for a dog. Separate prices apply for midweeks or weekends. Please contact us by email for this.
For information and reservation
Westkust Holiday
Zandput 26, Zoutelande
tel. +31 118 561 823
mob. +31 653 672 272
mail.
E-mail
Characteristics
Price indication: €450,00 to €850,00 per week.
Max. 4 personen.

Bedrooms: 2.
Bedden: 4.
Bathrooms: 1.

Pets allowed after consultation.
No smoking.
Washing machine.
Dryer.
Kitchen
Refrigerator.
Freezer compartment.
Coffee machine.
Water boiler.
Toaster.
Oven.
Combi microwave.
Child Facilities
High chair (child/baby chair).
Outside
Garden.
Terrace.
Garden furniture.
Lounge set.
Bicycle storage.
Storage room.
BBQ.
Location
Distance to the beach: ±600 m.
On holiday park.
By the sea.
Detached.
Occupancy rate
December 2022
48
1
2
3
4
49
5
6
7
8
9
10
11
50
12
13
14
15
16
17
18
51
19
20
21
22
23
24
25
52
26
27
28
29
30
31
January 2023
52
1
01
2
3
4
5
6
7
8
02
9
10
11
12
13
14
15
03
16
17
18
19
20
21
22
04
23
24
25
26
27
28
29
05
30
31
February 2023
05
1
2
3
4
5
06
6
7
8
9
10
11
12
07
13
14
15
16
17
18
19
08
20
21
22
23
24
25
26
09
27
28
March 2023
09
1
2
3
4
5
10
6
7
8
9
10
11
12
11
13
14
15
16
17
18
19
12
20
21
22
23
24
25
26
13
27
28
29
30
31
April 2023
13
1
2
14
3
4
5
6
7
8
9
15
10
11
12
13
14
15
16
16
17
18
19
20
21
22
23
17
24
25
26
27
28
29
30
May 2023
18
1
2
3
4
5
6
7
19
8
9
10
11
12
13
14
20
15
16
17
18
19
20
21
21
22
23
24
25
26
27
28
22
29
30
31
June 2023
22
1
2
3
4
23
5
6
7
8
9
10
11
24
12
13
14
15
16
17
18
25
19
20
21
22
23
24
25
26
26
27
28
29
30
July 2023
26
1
2
27
3
4
5
6
7
8
9
28
10
11
12
13
14
15
16
29
17
18
19
20
21
22
23
30
24
25
26
27
28
29
30
31
31
August 2023
31
1
2
3
4
5
6
32
7
8
9
10
11
12
13
33
14
15
16
17
18
19
20
34
21
22
23
24
25
26
27
35
28
29
30
31
September 2023
35
1
2
3
36
4
5
6
7
8
9
10
37
11
12
13
14
15
16
17
38
18
19
20
21
22
23
24
39
25
26
27
28
29
30
October 2023
39
1
40
2
3
4
5
6
7
8
41
9
10
11
12
13
14
15
42
16
17
18
19
20
21
22
43
23
24
25
26
27
28
29
44
30
31
November 2023
44
1
2
3
4
5
45
6
7
8
9
10
11
12
46
13
14
15
16
17
18
19
47
20
21
22
23
24
25
26
48
27
28
29
30
December 2023
48
1
2
3
49
4
5
6
7
8
9
10
50
11
12
13
14
15
16
17
51
18
19
20
21
22
23
24
52
25
26
27
28
29
30
31
January 2024
01
1
2
3
4
5
6
7
02
8
9
10
11
12
13
14
03
15
16
17
18
19
20
21
04
22
23
24
25
26
27
28
05
29
30
31
Location