Sloestraat 4 - Cottage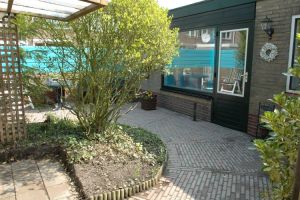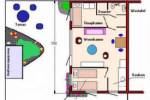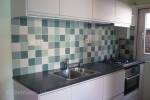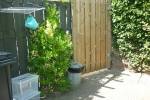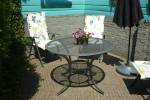 Te huur: Volledig gerenoveerde vakantiewoning op 300 meter van het strand en 200 meter van het centrum.
Met woonkamer, 2 slaapkamers, badkamer met douche, wastafel en toilet, volledig ingerichte keuken (Combi-Ofen, broodrooster, koffiezetapparaat, waterkoker).
Alles gelijksvloers.
Terras met fraai tuinameublement en afsluitbare poort, overdekt gedeelte voor fietsenstalling
Dit vakantiehuisje is ingericht voor max. 3 personen.
Een kluiskastje, CD/DVD speler en gratis draadloze internetverbinding zijn aanwezig.
Linnengoed en handdoeken etc. inclusief. Kinderbed en kinderstoel op aanvraag.
Huisdieren niet toegestaan.
For information and reservation
Mevr. J. Lievense
Sloestraat 4, Zoutelande
tel. +31 118 561 925
mail.
E-mail
web.
Website
Characteristics
Price indication: €325,00 to €450,00 per week.
Max. 3 personen.
Pets not allowed.
No smoking.
Location
Distance to the beach: ±200 m.
Distance to the city centre: ±300 m.
Occupancy rate
April 2021
13
1
2
3
4
14
5
6
7
8
9
10
11
15
12
13
14
15
16
17
18
16
19
20
21
22
23
24
25
17
26
27
28
29
30
May 2021
17
1
2
18
3
4
5
6
7
8
9
19
10
11
12
13
14
15
16
20
17
18
19
20
21
22
23
21
24
25
26
27
28
29
30
22
31
June 2021
22
1
2
3
4
5
6
23
7
8
9
10
11
12
13
24
14
15
16
17
18
19
20
25
21
22
23
24
25
26
27
26
28
29
30
July 2021
26
1
2
3
4
27
5
6
7
8
9
10
11
28
12
13
14
15
16
17
18
29
19
20
21
22
23
24
25
30
26
27
28
29
30
31
August 2021
30
1
31
2
3
4
5
6
7
8
32
9
10
11
12
13
14
15
33
16
17
18
19
20
21
22
34
23
24
25
26
27
28
29
35
30
31
September 2021
35
1
2
3
4
5
36
6
7
8
9
10
11
12
37
13
14
15
16
17
18
19
38
20
21
22
23
24
25
26
39
27
28
29
30
October 2021
39
1
2
3
40
4
5
6
7
8
9
10
41
11
12
13
14
15
16
17
42
18
19
20
21
22
23
24
43
25
26
27
28
29
30
31
November 2021
44
1
2
3
4
5
6
7
45
8
9
10
11
12
13
14
46
15
16
17
18
19
20
21
47
22
23
24
25
26
27
28
48
29
30
December 2021
48
1
2
3
4
5
49
6
7
8
9
10
11
12
50
13
14
15
16
17
18
19
51
20
21
22
23
24
25
26
52
27
28
29
30
31
January 2022
52
1
2
01
3
4
5
6
7
8
9
02
10
11
12
13
14
15
16
03
17
18
19
20
21
22
23
04
24
25
26
27
28
29
30
05
31
Location