Pauwtje 2 - Cottage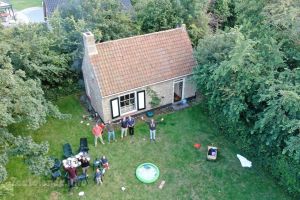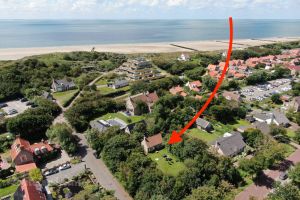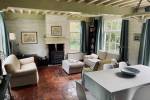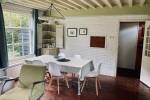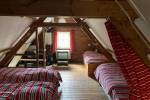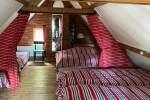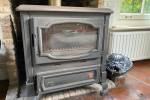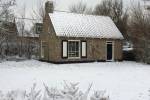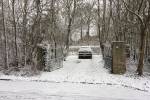 Op de mooiste plek in Zoutelande, vijf minuten lopen van het strand en 8 minuten van het centrum, staat ons familiehuisje met grote tuin met veel privacy.
Het vrijstaande huisje is eenvoudig ingericht met een slaapzolder. Op de begane grond een flinke living met houtkachel, keuken en wc/douche. De tuin ligt op het zuiden.
Er is cv; internet en televisie worden deze winter geïnstalleerd.
Op het terrein is gratis parkeerplaats voor 2 à 3 auto's en een buitenhaard.
Van 1 mei tot 15 september is er een strandhuisje met inventaris.

Toeristenbelasting € 2,- p.p.p.n.
Eindschoonmaak: € 60,-

Kenmerken
. Er zijn 8 bedden,
. niet voor studenten
. honden welkom, uiteraard niet op bank/stoelen
. Binnen verboden te roken
. tuin 1300 m2; tentje mag; twee fietsen
For information and reservation
Hans Frima
Wakkerstraat 6h, Amsterdam
tel. +31 641 878 583
mob. +31 630 315 901
mail.
E-mail
Characteristics
Price indication: €550,00 to €1.100,00 per week.
Max. 8 personen.
Pets allowed after consultation.
No smoking.
Wood stove.
Kitchen
Refrigerator.
Freezer compartment.
Coffee machine.
Water boiler.
Toaster.
Combi microwave.
Outside
Garden.
Garden furniture.
Car parking place.
BBQ.
Location
Distance to the beach: ±150 m.
Distance to the city centre: ±400 m.
Not on holiday park.
Detached.
Occupancy rate
December 2022
48
1
2
3
4
49
5
6
7
8
9
10
11
50
12
13
14
15
16
17
18
51
19
20
21
22
23
24
25
52
26
27
28
29
30
31
January 2023
52
1
01
2
3
4
5
6
7
8
02
9
10
11
12
13
14
15
03
16
17
18
19
20
21
22
04
23
24
25
26
27
28
29
05
30
31
February 2023
05
1
2
3
4
5
06
6
7
8
9
10
11
12
07
13
14
15
16
17
18
19
08
20
21
22
23
24
25
26
09
27
28
March 2023
09
1
2
3
4
5
10
6
7
8
9
10
11
12
11
13
14
15
16
17
18
19
12
20
21
22
23
24
25
26
13
27
28
29
30
31
April 2023
13
1
2
14
3
4
5
6
7
8
9
15
10
11
12
13
14
15
16
16
17
18
19
20
21
22
23
17
24
25
26
27
28
29
30
May 2023
18
1
2
3
4
5
6
7
19
8
9
10
11
12
13
14
20
15
16
17
18
19
20
21
21
22
23
24
25
26
27
28
22
29
30
31
June 2023
22
1
2
3
4
23
5
6
7
8
9
10
11
24
12
13
14
15
16
17
18
25
19
20
21
22
23
24
25
26
26
27
28
29
30
July 2023
26
1
2
27
3
4
5
6
7
8
9
28
10
11
12
13
14
15
16
29
17
18
19
20
21
22
23
30
24
25
26
27
28
29
30
31
31
August 2023
31
1
2
3
4
5
6
32
7
8
9
10
11
12
13
33
14
15
16
17
18
19
20
34
21
22
23
24
25
26
27
35
28
29
30
31
September 2023
35
1
2
3
36
4
5
6
7
8
9
10
37
11
12
13
14
15
16
17
38
18
19
20
21
22
23
24
39
25
26
27
28
29
30
October 2023
39
1
40
2
3
4
5
6
7
8
41
9
10
11
12
13
14
15
42
16
17
18
19
20
21
22
43
23
24
25
26
27
28
29
44
30
31
November 2023
44
1
2
3
4
5
45
6
7
8
9
10
11
12
46
13
14
15
16
17
18
19
47
20
21
22
23
24
25
26
48
27
28
29
30
December 2023
48
1
2
3
49
4
5
6
7
8
9
10
50
11
12
13
14
15
16
17
51
18
19
20
21
22
23
24
52
25
26
27
28
29
30
31
January 2024
01
1
2
3
4
5
6
7
02
8
9
10
11
12
13
14
03
15
16
17
18
19
20
21
04
22
23
24
25
26
27
28
05
29
30
31
Location