Zeelandrust, Kaasboerweg 3 - Cottage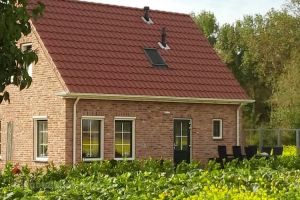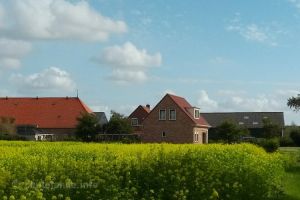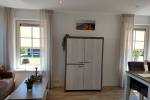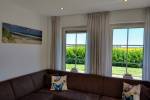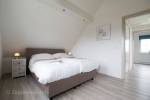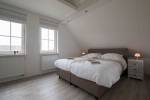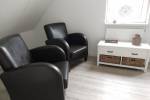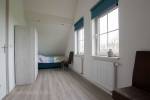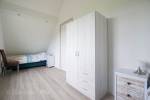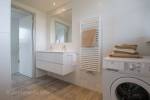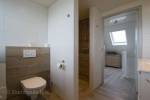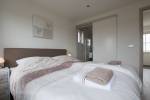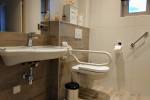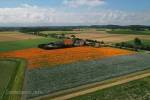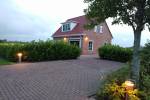 As of March 2017 we are renting our luxury holiday residence, which is customized for the elderly and other people who require assistance. Of course families are welcome as well. De ground floor is without doorsteps and the bedroom is directly next to the bathroom with a walk-in shower where (if need be) is a shower chair. The sink has enough space under it for a wheelchair and there are handles next to the toilet. The kitchen is equipped with a dishwasher, oven, microwave, fridge, freezer and furnace.

Upstairs are two spacious bedrooms and a second bathroom with a washing machine. An extra bed for a baby or small child is present, as well as a high chair. All the beds are box-spring beds.

Surrounding the house is a spacious terrace with a gorgeous view on the dunes of Zoutelande, a town about 1,5 kilometers away. The terrace is equipped with a table and six chairs. In the spring and autumn you can enjoy wonderful sunsets.

There is parking space right next to the residence for your car, and the residence borders on our farm. (Agriculture)

The price is between €500 and €1330 per week, depending on the season.Any bookings for 2019 are also for a minimum of 1 week.In holidays the rental is for at least 1 week. Other times we also rent the house for midweeks or weekends. For two people we are prepared to give high last minute discounts. Last-minute reservation is also possible for 2 nights The aforementioned price includes towels and bedlinen, but not cleaning costs (€75) and tourist taxes (€2 per person per night) the deposit for the house is €100.
For information and reservation
Jaap en Karin Francke
Kaasboerweg 3, Meliskerke
mob. +31 649 405 645
mail.
E-mail
web.
Website
Characteristics
Price indication: €500,00 to €1.330,00 per week.
Max. 6 personen.

Bedrooms: 3.
Bedden: 6.
Bathrooms: 2.

Floor space: ±120 m².
Pets not allowed.
No smoking.
Washing machine.
Kitchen
Refrigerator.
Freezer compartment.
Coffee machine.
Water boiler.
Toaster.
Citrus press.
Dishwasher.
Combi microwave.
Sanitary
Shower.
Toilet.
Second toilet.
Sink.
Media
Wi-Fi internet.
Radio.
CD-player.
Child Facilities
High chair (child/baby chair).
Campingbed.
Outside
Garden.
Terrace.
Garden furniture.
Car parking place.
Bicycle storage.
Storage room.
BBQ.
Location
Distance to the beach: ±2,1 km.
Distance to the city centre: ±750 m.
Not on holiday park.
Detached.
Occupancy rate
October 2022
39
1
2
40
3
4
5
6
7
8
9
41
10
11
12
13
14
15
16
42
17
18
19
20
21
22
23
43
24
25
26
27
28
29
30
44
31
November 2022
44
1
2
3
4
5
6
45
7
8
9
10
11
12
13
46
14
15
16
17
18
19
20
47
21
22
23
24
25
26
27
48
28
29
30
December 2022
48
1
2
3
4
49
5
6
7
8
9
10
11
50
12
13
14
15
16
17
18
51
19
20
21
22
23
24
25
52
26
27
28
29
30
31
January 2023
52
1
01
2
3
4
5
6
7
8
02
9
10
11
12
13
14
15
03
16
17
18
19
20
21
22
04
23
24
25
26
27
28
29
05
30
31
February 2023
05
1
2
3
4
5
06
6
7
8
9
10
11
12
07
13
14
15
16
17
18
19
08
20
21
22
23
24
25
26
09
27
28
March 2023
09
1
2
3
4
5
10
6
7
8
9
10
11
12
11
13
14
15
16
17
18
19
12
20
21
22
23
24
25
26
13
27
28
29
30
31
April 2023
13
1
2
14
3
4
5
6
7
8
9
15
10
11
12
13
14
15
16
16
17
18
19
20
21
22
23
17
24
25
26
27
28
29
30
May 2023
18
1
2
3
4
5
6
7
19
8
9
10
11
12
13
14
20
15
16
17
18
19
20
21
21
22
23
24
25
26
27
28
22
29
30
31
June 2023
22
1
2
3
4
23
5
6
7
8
9
10
11
24
12
13
14
15
16
17
18
25
19
20
21
22
23
24
25
26
26
27
28
29
30
July 2023
26
1
2
27
3
4
5
6
7
8
9
28
10
11
12
13
14
15
16
29
17
18
19
20
21
22
23
30
24
25
26
27
28
29
30
31
31
August 2023
31
1
2
3
4
5
6
32
7
8
9
10
11
12
13
33
14
15
16
17
18
19
20
34
21
22
23
24
25
26
27
35
28
29
30
31
September 2023
35
1
2
3
36
4
5
6
7
8
9
10
37
11
12
13
14
15
16
17
38
18
19
20
21
22
23
24
39
25
26
27
28
29
30
October 2023
39
1
40
2
3
4
5
6
7
8
41
9
10
11
12
13
14
15
42
16
17
18
19
20
21
22
43
23
24
25
26
27
28
29
44
30
31
November 2023
44
1
2
3
4
5
45
6
7
8
9
10
11
12
46
13
14
15
16
17
18
19
47
20
21
22
23
24
25
26
48
27
28
29
30
December 2023
48
1
2
3
49
4
5
6
7
8
9
10
50
11
12
13
14
15
16
17
51
18
19
20
21
22
23
24
52
25
26
27
28
29
30
31
January 2024
01
1
2
3
4
5
6
7
02
8
9
10
11
12
13
14
03
15
16
17
18
19
20
21
04
22
23
24
25
26
27
28
05
29
30
31
Location