Stroming 23 - Cottage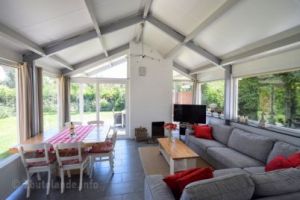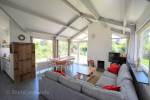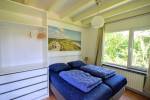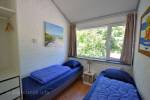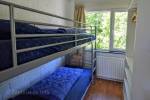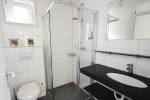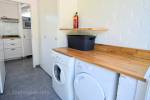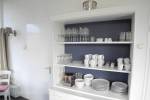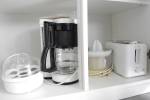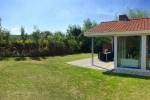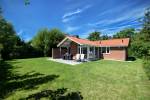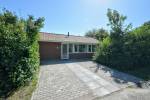 Completely renovated. Holiday house with a beautiful large garden on the south. The Bungalow park Het Kustlicht is located in the heart of the peaceful and spacious polder landscape, just 700 metres from the beach.

Detached bungalow for max. 6 persons. Livingroom with TV, radio and a fireplace. Open kitchencorner. 3 Bedrooms; 2 with 2 single beds and 1 with a bunk bed. Bathroom with shower, sink and toilet. Garden with terrace and lawn.

Facilities:
- Free WiFi internet
- Nespresso coffee machine
- Digital TV channels

These prices include VAT, endcleaning, administration costs and enery. Only the deposit of €100,00 and the tourist Tax are extra.

When your stay is longer than a week, you will become a discount of €103,00 for the second week and evt. extra weeks.
For information and reservation
Romy & Ramon, Zoutelande
tel. +31 118 561 809
mail.
E-mail
web.
Website
Characteristics
Price indication: €500,00 to €1.254,00 per week.
Max. 6 personen.

Bedrooms: 3.
Bedden: 4.
Stapelbed.
Bathrooms: 1.

Floor space: ±70 m².
Pets not allowed.
No smoking.
Fireplace.
Safebox.
Kitchen
Refrigerator.
Freezer compartment.
Coffee machine.
Water boiler.
Toaster.
Citrus press.
Dishwasher.
Combi microwave.
Media
Wi-Fi internet.
TV.
Foreign TV channels.
DVD-player.
Radio.
CD-player.
Child Facilities
High chair (child/baby chair).
Outside
Garden.
Terrace.
Garden furniture.
Private parking.
Location
Distance to the beach: ±700 m.
Distance to the city centre: ±1,1 km.
On holiday park.
Detached.
Occupancy rate
March 2021
09
1
2
3
4
5
6
7
10
8
9
10
11
12
13
14
11
15
16
17
18
19
20
21
12
22
23
24
25
26
27
28
13
29
30
31
April 2021
13
1
2
3
4
14
5
6
7
8
9
10
11
15
12
13
14
15
16
17
18
16
19
20
21
22
23
24
25
17
26
27
28
29
30
May 2021
17
1
2
18
3
4
5
6
7
8
9
19
10
11
12
13
14
15
16
20
17
18
19
20
21
22
23
21
24
25
26
27
28
29
30
22
31
June 2021
22
1
2
3
4
5
6
23
7
8
9
10
11
12
13
24
14
15
16
17
18
19
20
25
21
22
23
24
25
26
27
26
28
29
30
July 2021
26
1
2
3
4
27
5
6
7
8
9
10
11
28
12
13
14
15
16
17
18
29
19
20
21
22
23
24
25
30
26
27
28
29
30
31
August 2021
30
1
31
2
3
4
5
6
7
8
32
9
10
11
12
13
14
15
33
16
17
18
19
20
21
22
34
23
24
25
26
27
28
29
35
30
31
September 2021
35
1
2
3
4
5
36
6
7
8
9
10
11
12
37
13
14
15
16
17
18
19
38
20
21
22
23
24
25
26
39
27
28
29
30
October 2021
39
1
2
3
40
4
5
6
7
8
9
10
41
11
12
13
14
15
16
17
42
18
19
20
21
22
23
24
43
25
26
27
28
29
30
31
November 2021
44
1
2
3
4
5
6
7
45
8
9
10
11
12
13
14
46
15
16
17
18
19
20
21
47
22
23
24
25
26
27
28
48
29
30
December 2021
48
1
2
3
4
5
49
6
7
8
9
10
11
12
50
13
14
15
16
17
18
19
51
20
21
22
23
24
25
26
52
27
28
29
30
31
January 2022
52
1
2
01
3
4
5
6
7
8
9
02
10
11
12
13
14
15
16
03
17
18
19
20
21
22
23
04
24
25
26
27
28
29
30
05
31
Offers and Lastminutes
– : from €529 for €466 per week
– : from €557 for €488 per week
– : from €529 for €466 per week
– : from €557 for €488 per week
– : from €529 for €466 per week
Location