Westkapelseweg 11 - Lelie - Cottage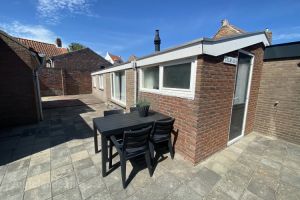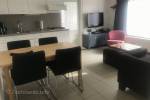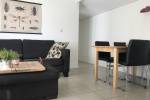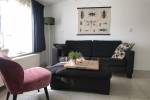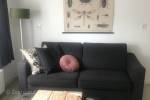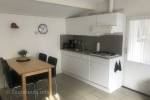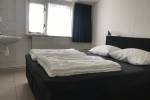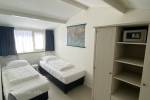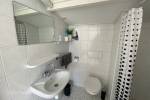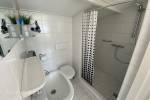 The bungalow is situated at 100 m of the sea and dunes / beach. The house is completely set with a flatscreen color TV, radio, coffee maker, microwave, heardryer, complete kitchen, free use of washing machine, quilt bedclothes (sheets can be hired), child's bed on request, gardenfurniture is available and there is a storehouse for bikes. An own parking place is available.

The set-up of the bungalow is as follows:
Entrance, Living-room/kitchen, 1 bedroom with double boxspring bed, 1 bedroom with 2 single beds, shower with washbowl and toilet, central heating.
For information and reservation
K. Brasser-cijvat
Majoorwerf 17, Zoutelande
tel. +31 118 561 451
mail.
E-mail
Characteristics
Max. 4 personen.

Bedrooms: 2.
Bedden: 4.
Bathrooms: 1.

Pets not allowed.
No smoking.
Washing machine.
Media
Wi-Fi internet.
TV.
Radio.
CD-player.
Outside
Garden.
Garden furniture.
Car parking place.
Location
Distance to the beach: ±100 m.
Distance to the city centre: ±100 m.
Occupancy rate
September 2022
35
1
2
3
4
36
5
6
7
8
9
10
11
37
12
13
14
15
16
17
18
38
19
20
21
22
23
24
25
39
26
27
28
29
30
October 2022
39
1
2
40
3
4
5
6
7
8
9
41
10
11
12
13
14
15
16
42
17
18
19
20
21
22
23
43
24
25
26
27
28
29
30
44
31
November 2022
44
1
2
3
4
5
6
45
7
8
9
10
11
12
13
46
14
15
16
17
18
19
20
47
21
22
23
24
25
26
27
48
28
29
30
December 2022
48
1
2
3
4
49
5
6
7
8
9
10
11
50
12
13
14
15
16
17
18
51
19
20
21
22
23
24
25
52
26
27
28
29
30
31
January 2023
52
1
01
2
3
4
5
6
7
8
02
9
10
11
12
13
14
15
03
16
17
18
19
20
21
22
04
23
24
25
26
27
28
29
05
30
31
February 2023
05
1
2
3
4
5
06
6
7
8
9
10
11
12
07
13
14
15
16
17
18
19
08
20
21
22
23
24
25
26
09
27
28
March 2023
09
1
2
3
4
5
10
6
7
8
9
10
11
12
11
13
14
15
16
17
18
19
12
20
21
22
23
24
25
26
13
27
28
29
30
31
April 2023
13
1
2
14
3
4
5
6
7
8
9
15
10
11
12
13
14
15
16
16
17
18
19
20
21
22
23
17
24
25
26
27
28
29
30
May 2023
18
1
2
3
4
5
6
7
19
8
9
10
11
12
13
14
20
15
16
17
18
19
20
21
21
22
23
24
25
26
27
28
22
29
30
31
June 2023
22
1
2
3
4
23
5
6
7
8
9
10
11
24
12
13
14
15
16
17
18
25
19
20
21
22
23
24
25
26
26
27
28
29
30
July 2023
26
1
2
27
3
4
5
6
7
8
9
28
10
11
12
13
14
15
16
29
17
18
19
20
21
22
23
30
24
25
26
27
28
29
30
31
31
August 2023
31
1
2
3
4
5
6
32
7
8
9
10
11
12
13
33
14
15
16
17
18
19
20
34
21
22
23
24
25
26
27
35
28
29
30
31
September 2023
35
1
2
3
36
4
5
6
7
8
9
10
37
11
12
13
14
15
16
17
38
18
19
20
21
22
23
24
39
25
26
27
28
29
30
October 2023
39
1
40
2
3
4
5
6
7
8
41
9
10
11
12
13
14
15
42
16
17
18
19
20
21
22
43
23
24
25
26
27
28
29
44
30
31
November 2023
44
1
2
3
4
5
45
6
7
8
9
10
11
12
46
13
14
15
16
17
18
19
47
20
21
22
23
24
25
26
48
27
28
29
30
December 2023
48
1
2
3
49
4
5
6
7
8
9
10
50
11
12
13
14
15
16
17
51
18
19
20
21
22
23
24
52
25
26
27
28
29
30
31
January 2024
01
1
2
3
4
5
6
7
02
8
9
10
11
12
13
14
03
15
16
17
18
19
20
21
04
22
23
24
25
26
27
28
05
29
30
31
Location