Noordstraat 24a, De Vink - Studio apartment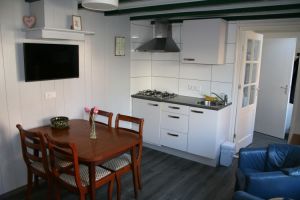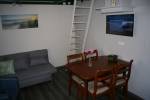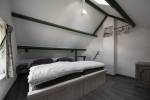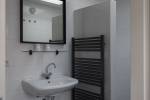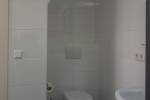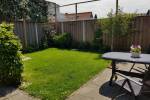 De Vink is a cozy and renovated holiday home for two people in the center of the village, a few minutes' walk from the sea and beach. In the quiet private garden (approx. 50 m2) you can hear the murmur of the sea from the terrace. The bedroom is upstairs, accessible via a staircase in the room. Single duvets are available. Bring your own bed linen and linen, in consultation it is possible to rent bed linen for a fee.
The small shed has room for two bicycles and offers the possibility to charge electric bicycles. View the photos for a first impression of this nice house.

New guests can apply for next year from January 2, 2022. Until then, regular visitors have priority when booking their holiday weeks.

Rates 2021 including free parking (you can rent from friday to friday):
€ 235.00 from January 1 to February 12
€ 260.00 from February 12 to February 26
€ 235.00 from February 26 to March 26
€ 285.00 from March 26 to July 2
€ 335.00 from July 2 to September 3
€ 285.00 from September 3 to October 29
€ 260.00 from October 29 to November 12
€ 235.00 from November 12 to December 17
€ 260.00 from 17 to 24 December
€ 300.00 from December 24 to January 7, 2022.

€ 165.00 for 3 nights (only possible in consultation from November to March)
€ 180.00 for 4 nights (only possible in consultation from November to March)
€ 195.00 for 5 nights (only possible in consultation from November to March)
Prices include gas, water, electricity, free parking and excluding tourist tax. Tourist tax: € 2.00 per person per night.
If you clean the house yourself, there are no extra costs. If you leave the cleaning to us, the costs are € 40.00.
For information and reservation
A. Boogaard
Noordstraat 24, Zoutelande
tel. +31 118 561 504
mob. +31 651 292 649
mail.
E-mail
Characteristics
Price indication: €235,00 to €350,00 per week.
Max. 2 personen.
Floor space: ±45 m².
Pets not allowed.
No smoking.
Kitchen
Refrigerator.
Freezer compartment.
Coffee machine.
Water boiler.
Toaster.
Citrus press.
Microwave.
Media
Wi-Fi internet.
TV.
Foreign TV channels.
Radio.
Outside
Garden.
Terrace.
Garden furniture.
Bicycle storage.
Storage room.
BBQ.
Location
Distance to the beach: ±200 m.
Distance to the city centre: ±100 m.
Not on holiday park.
By the sea.
Occupancy rate
October 2021
39
1
2
3
40
4
5
6
7
8
9
10
41
11
12
13
14
15
16
17
42
18
19
20
21
22
23
24
43
25
26
27
28
29
30
31
November 2021
44
1
2
3
4
5
6
7
45
8
9
10
11
12
13
14
46
15
16
17
18
19
20
21
47
22
23
24
25
26
27
28
48
29
30
December 2021
48
1
2
3
4
5
49
6
7
8
9
10
11
12
50
13
14
15
16
17
18
19
51
20
21
22
23
24
25
26
52
27
28
29
30
31
January 2022
52
1
2
01
3
4
5
6
7
8
9
02
10
11
12
13
14
15
16
03
17
18
19
20
21
22
23
04
24
25
26
27
28
29
30
05
31
February 2022
05
1
2
3
4
5
6
06
7
8
9
10
11
12
13
07
14
15
16
17
18
19
20
08
21
22
23
24
25
26
27
09
28
March 2022
09
1
2
3
4
5
6
10
7
8
9
10
11
12
13
11
14
15
16
17
18
19
20
12
21
22
23
24
25
26
27
13
28
29
30
31
April 2022
13
1
2
3
14
4
5
6
7
8
9
10
15
11
12
13
14
15
16
17
16
18
19
20
21
22
23
24
17
25
26
27
28
29
30
May 2022
17
1
18
2
3
4
5
6
7
8
19
9
10
11
12
13
14
15
20
16
17
18
19
20
21
22
21
23
24
25
26
27
28
29
22
30
31
June 2022
22
1
2
3
4
5
23
6
7
8
9
10
11
12
24
13
14
15
16
17
18
19
25
20
21
22
23
24
25
26
26
27
28
29
30
July 2022
26
1
2
3
27
4
5
6
7
8
9
10
28
11
12
13
14
15
16
17
29
18
19
20
21
22
23
24
30
25
26
27
28
29
30
31
August 2022
31
1
2
3
4
5
6
7
32
8
9
10
11
12
13
14
33
15
16
17
18
19
20
21
34
22
23
24
25
26
27
28
35
29
30
31
September 2022
35
1
2
3
4
36
5
6
7
8
9
10
11
37
12
13
14
15
16
17
18
38
19
20
21
22
23
24
25
39
26
27
28
29
30
October 2022
39
1
2
40
3
4
5
6
7
8
9
41
10
11
12
13
14
15
16
42
17
18
19
20
21
22
23
43
24
25
26
27
28
29
30
44
31
November 2022
44
1
2
3
4
5
6
45
7
8
9
10
11
12
13
46
14
15
16
17
18
19
20
47
21
22
23
24
25
26
27
48
28
29
30
December 2022
48
1
2
3
4
49
5
6
7
8
9
10
11
50
12
13
14
15
16
17
18
51
19
20
21
22
23
24
25
52
26
27
28
29
30
31
January 2023
52
1
01
2
3
4
5
6
7
8
02
9
10
11
12
13
14
15
03
16
17
18
19
20
21
22
04
23
24
25
26
27
28
29
05
30
31
Location