De Spaier 4 - Studio apartment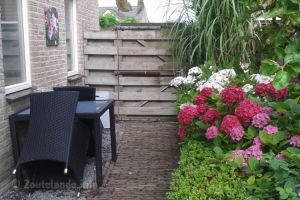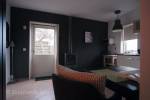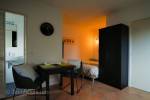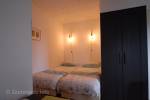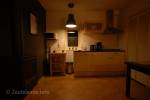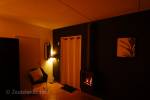 Located in a quiet residential area you will find our studio for up to two people.
300mtr of dunes, beach and village center.

The studio is on the ground floor with private entrance and garden furniture and is equipped with built-in kitchen, stove, refrigerator, microwave, dishes, cookware and utensils, electric coffee maker and kettle. Shower with toilet and sink. Gas atmosphere. LCD TV with DVD player. (Free WIFI)

Bedlinen, towels and cleaning are included. Also has this property a private parking.

The presence of the gas, self-regulating, this property is also suitable for the winter months!

Smoking and pets are not allowed.

Prices from € 22.50 - € 25, - p.p.p.n.
Summer only weekly € 350.00
Local tax € 1,30 p.p.p.n.
Surcharge for lease to one person
For information and reservation
Erik Heeren
De Spaier 4, Zoutelande
tel. +31 118 562 688
mob. +31 622 467 470
mail.
E-mail
web.
Website
Characteristics
Price indication: €22,50 to €25,00 per night per person.
Max. 2 personen.
Floor space: ±25 m².
Pets not allowed.
No smoking.
Gas fireplace.
Kitchen
Refrigerator.
Coffee machine.
Water boiler.
Microwave.
Media
Wi-Fi internet.
TV.
Foreign TV channels.
Radio.
Outside
Garden.
Garden furniture.
Private parking.
Bicycle storage.
Location
Distance to the beach: ±300 m.
Distance to the city centre: ±300 m.
Occupancy rate
April 2021
13
1
2
3
4
14
5
6
7
8
9
10
11
15
12
13
14
15
16
17
18
16
19
20
21
22
23
24
25
17
26
27
28
29
30
May 2021
17
1
2
18
3
4
5
6
7
8
9
19
10
11
12
13
14
15
16
20
17
18
19
20
21
22
23
21
24
25
26
27
28
29
30
22
31
June 2021
22
1
2
3
4
5
6
23
7
8
9
10
11
12
13
24
14
15
16
17
18
19
20
25
21
22
23
24
25
26
27
26
28
29
30
July 2021
26
1
2
3
4
27
5
6
7
8
9
10
11
28
12
13
14
15
16
17
18
29
19
20
21
22
23
24
25
30
26
27
28
29
30
31
August 2021
30
1
31
2
3
4
5
6
7
8
32
9
10
11
12
13
14
15
33
16
17
18
19
20
21
22
34
23
24
25
26
27
28
29
35
30
31
September 2021
35
1
2
3
4
5
36
6
7
8
9
10
11
12
37
13
14
15
16
17
18
19
38
20
21
22
23
24
25
26
39
27
28
29
30
October 2021
39
1
2
3
40
4
5
6
7
8
9
10
41
11
12
13
14
15
16
17
42
18
19
20
21
22
23
24
43
25
26
27
28
29
30
31
November 2021
44
1
2
3
4
5
6
7
45
8
9
10
11
12
13
14
46
15
16
17
18
19
20
21
47
22
23
24
25
26
27
28
48
29
30
December 2021
48
1
2
3
4
5
49
6
7
8
9
10
11
12
50
13
14
15
16
17
18
19
51
20
21
22
23
24
25
26
52
27
28
29
30
31
January 2022
52
1
2
01
3
4
5
6
7
8
9
02
10
11
12
13
14
15
16
03
17
18
19
20
21
22
23
04
24
25
26
27
28
29
30
05
31
February 2022
05
1
2
3
4
5
6
06
7
8
9
10
11
12
13
07
14
15
16
17
18
19
20
08
21
22
23
24
25
26
27
09
28
March 2022
09
1
2
3
4
5
6
10
7
8
9
10
11
12
13
11
14
15
16
17
18
19
20
12
21
22
23
24
25
26
27
13
28
29
30
31
April 2022
13
1
2
3
14
4
5
6
7
8
9
10
15
11
12
13
14
15
16
17
16
18
19
20
21
22
23
24
17
25
26
27
28
29
30
May 2022
17
1
18
2
3
4
5
6
7
8
19
9
10
11
12
13
14
15
20
16
17
18
19
20
21
22
21
23
24
25
26
27
28
29
22
30
31
June 2022
22
1
2
3
4
5
23
6
7
8
9
10
11
12
24
13
14
15
16
17
18
19
25
20
21
22
23
24
25
26
26
27
28
29
30
July 2022
26
1
2
3
27
4
5
6
7
8
9
10
28
11
12
13
14
15
16
17
29
18
19
20
21
22
23
24
30
25
26
27
28
29
30
31
August 2022
31
1
2
3
4
5
6
7
32
8
9
10
11
12
13
14
33
15
16
17
18
19
20
21
34
22
23
24
25
26
27
28
35
29
30
31
Location