Leenes Land 24b - Bed without breakfast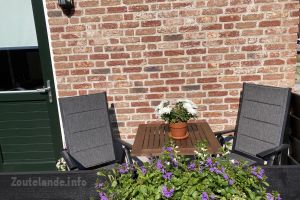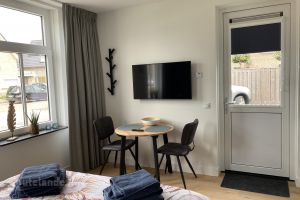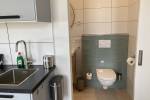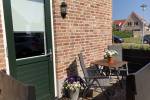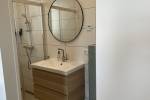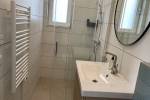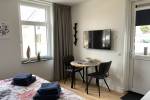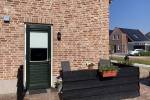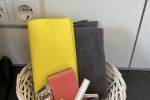 This new, modernly furnished luxury double room (completed May 2021) is fully equipped and within walking distance of the beach. Want to go to Zoutelande as a couple? Then this is an ideal place to stay. You are here in a quiet part of Zoutelande, but still close to the center.

The room is fully equipped and has its own private parking space on the driveway, underfloor heating and floor cooling (wonderfully cool on hot days), a bathroom with a shower, sink and toilet. In the living area there is a large bed 180cm * 210cm and is equipped with a summer or a winter duvet and bed linen. There is a full HD smart TV with many (foreign) channels and the possibility to stream YouTube or Netflix when you have a subscription. The room has a free and fast WiFi connection (400mbs).
If the weather is not so good or if you visit the room in the winter months, there is a dining area with a table and two good chairs inside. The kitchenette has all the necessary kitchenware and is equipped with a dishwasher, fridge freezer and a combi oven.

When the weather is nice, you can have a delicious breakfast, drink a glass of wine or open a book on the seating terrace. Ideal to relax and enjoy after a wonderful beach day or an active walking or cycling day. That is a very nice holiday feeling!

The room is rented per week in July and August with arrival and departure on Fridays. In the mid- and low season, a midweek (Monday - Friday) or a long weekend (Friday - Sunday) are possible. Deviating agreements can be made around holidays and public holidays.
The prices vary between € 295.00 and € 560.00 per week and incl. a made bed and towels.
Additional costs are tourist tax of € 2.00 p.p.p.n. and final cleaning of € 45.00 per booking.

Smoking and pets not allowed.

The room is suitable for 2 people. Not suitable for 2 people and a baby or child.

For more information, please contact us.
For information and reservation
Fam. Roelse
Leenes Land 24b, Zoutelande
tel. +31 623 091 886
mail.
E-mail
Characteristics
Price indication: €295,00 to €560,00 per week.
Max. 2 personen.
Pets not allowed.
No smoking.
Safebox.
Kitchen
Refrigerator.
Freezer compartment.
Coffee machine.
Water boiler.
Citrus press.
Dishwasher.
Combi microwave.
Media
Wi-Fi internet.
TV.
Foreign TV channels.
Outside
Terrace.
Garden furniture.
Car parking place.
Bicycle storage.
Storage room.
Location
Distance to the beach: ±500 m.
Distance to the city centre: ±500 m.
Not on holiday park.
Occupancy rate
December 2022
48
1
2
3
4
49
5
6
7
8
9
10
11
50
12
13
14
15
16
17
18
51
19
20
21
22
23
24
25
52
26
27
28
29
30
31
January 2023
52
1
01
2
3
4
5
6
7
8
02
9
10
11
12
13
14
15
03
16
17
18
19
20
21
22
04
23
24
25
26
27
28
29
05
30
31
February 2023
05
1
2
3
4
5
06
6
7
8
9
10
11
12
07
13
14
15
16
17
18
19
08
20
21
22
23
24
25
26
09
27
28
March 2023
09
1
2
3
4
5
10
6
7
8
9
10
11
12
11
13
14
15
16
17
18
19
12
20
21
22
23
24
25
26
13
27
28
29
30
31
April 2023
13
1
2
14
3
4
5
6
7
8
9
15
10
11
12
13
14
15
16
16
17
18
19
20
21
22
23
17
24
25
26
27
28
29
30
May 2023
18
1
2
3
4
5
6
7
19
8
9
10
11
12
13
14
20
15
16
17
18
19
20
21
21
22
23
24
25
26
27
28
22
29
30
31
June 2023
22
1
2
3
4
23
5
6
7
8
9
10
11
24
12
13
14
15
16
17
18
25
19
20
21
22
23
24
25
26
26
27
28
29
30
July 2023
26
1
2
27
3
4
5
6
7
8
9
28
10
11
12
13
14
15
16
29
17
18
19
20
21
22
23
30
24
25
26
27
28
29
30
31
31
August 2023
31
1
2
3
4
5
6
32
7
8
9
10
11
12
13
33
14
15
16
17
18
19
20
34
21
22
23
24
25
26
27
35
28
29
30
31
September 2023
35
1
2
3
36
4
5
6
7
8
9
10
37
11
12
13
14
15
16
17
38
18
19
20
21
22
23
24
39
25
26
27
28
29
30
October 2023
39
1
40
2
3
4
5
6
7
8
41
9
10
11
12
13
14
15
42
16
17
18
19
20
21
22
43
23
24
25
26
27
28
29
44
30
31
November 2023
44
1
2
3
4
5
45
6
7
8
9
10
11
12
46
13
14
15
16
17
18
19
47
20
21
22
23
24
25
26
48
27
28
29
30
December 2023
48
1
2
3
49
4
5
6
7
8
9
10
50
11
12
13
14
15
16
17
51
18
19
20
21
22
23
24
52
25
26
27
28
29
30
31
January 2024
01
1
2
3
4
5
6
7
02
8
9
10
11
12
13
14
03
15
16
17
18
19
20
21
04
22
23
24
25
26
27
28
05
29
30
31
Location