Westhove Castle - Monument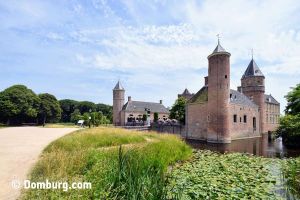 On Walcheren, between the towns of Domburg and Oostkapelle, are the outposts Westhove, Duinbeek and Berkenbosch. Westhove can even be called a castle. There seems already to have been an earthen defensive embankment in 836, aimed at keeping Northmen (Vikings) outside. Several findings suggest that where Westhove Castle is now, there stood a wooden fortification in the 12th century, which has given way to a living / defence tower in stone. This functioned until 1572 as a hunting lodge for the powerful abbots of Middelburg and Floris V and Charles V, among others, stayed here. In 1572, Westhove was captured by the Spanish forces and then recaptured by the Sea Beggars and largely destroyed. Later, wealthy merchants from the Golden Age found that the castle fit their status.
A hostel now resides in Westhove Castle. Anyone who is curious about the interior may look inside. There is also a café and a terrace. The Sea Museum for nature and landscape Terra Maris is located in the Orangery next to the castle. Various hiking trails start here.
Furthermore Westhove Castle is near the following sights: Terra Maris (±125 m), Marie Tak van Poortvliet (±1,8 km), Subtropical swimming pool De Parel (±2,3 km), Health and beauty center De Parel (±2,3 km) & Domburgsche Golf Club (±2,4 km).
For information:
Duinvlietweg 8, Oostkapelle