Swimming pool Vrijburg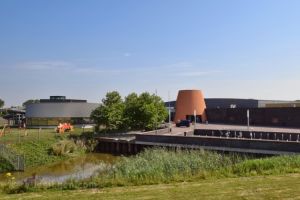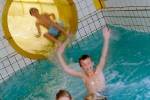 This modern swimming complex, with its extensive subtropical water park, is ideal for swimming enthusiasts of all ages and offers a range of facilities for both recreation and sports.
What to Expect at Vrijburg Swimming Pool?
Various Swimming Facilities: Vrijburg Swimming Pool features multiple pools, including a competition pool, an instruction pool, and a leisure pool with various water attractions.
Subtropical Water Park: Rain or shine, at Vrijburg Pool, it's always a good time. The subtropical water park includes a hot tub, a water fountain, a lazy river with water jets, a whirlpool, a big slide, a splash wall, and a toddler and baby pool with a water playground.
Recreation and Relaxation: Enjoy the fun water slides, a lazy river, and a toddler pool for the youngest visitors. Relax in the hot tub or sauna after an energetic swim session.
Safe and Clean: Safety and hygiene are a top priority, allowing you to enjoy your visit worry-free.

A Water-Rich Adventure
Plan your visit to Vrijburg Swimming Pool in Vlissingen for a day filled with swimming fun and relaxation in a welcoming and safe environment.
Furthermore Swimming pool Vrijburg is near the following sights: DOCK Fun & Event Center (±2,1 km), Children's Playground Ballorig (±2,3 km), Middelburg Boat Tour (±2,6 km), Indoor Playground Monkey Town Middelburg (±2,7 km) & HyperBowling Middelburg (±2,7 km).
For information:
Sportweg 2, Vlissingen
tel. +31 118 486 820
web.
Website