Catharinakerk - Church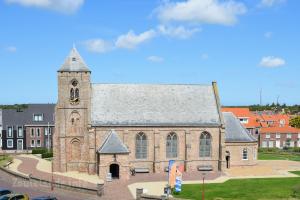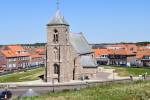 The (formerly Catholic) church was founded around 1270 and dedicated to Saint Catherine. The church tower that still stands today is most likely from that period. The church building was constructed in the 14th century. According to tradition, both side aisles were demolished during the Eighty Years' War (1568-1648). A major restoration took place in 1735, giving the church its current form without a vestry. The vestry was added after the Second World War.
In 2011, the church was extensively restored and redesigned on behalf of the Protestant Community of Zoutelande. The walls, affected by salt, were treated and re-pointed on both the inside and outside. Additionally, the pews were replaced with chairs. The church is now suitable for multiple purposes.
Tourist Information Point Zoutelande (TIPZ)
The Tourist Inspiration Point Zoutelande (TIPZ) is located in the Catharinakerk at Willibrordusplein 3 in Zoutelande.
During TIPZ opening hours, two hosts or hostesses are always available to assist tourists. They are ready to answer questions and provide advice about the area.
Furthermore, there is a brochure stand available with a wide selection of maps, routes, guided tours, and brochures. Visitors can take free informational materials to further explore the attractions and activities in the region.
The [/i]Tourist Inspiration Point Zoutelande[/i] is the perfect place to thoroughly prepare for your visit to Zoutelande. Come by and get informed and inspired for a wonderful time in this beautiful coastal town.
Opening hours TIPZ
Every Tuesday, Wednesday, Friday, and Saturday from 11:00 a.m. to 3:00 p.m. from July 15th to August 31st, 2023.
Outside of this period, open every Saturday from 11:00 a.m. to 3:00 p.m.

Furthermore Catharinakerk is near the following sights: Molen Zoutelande (±250 m), Bunker Museum (±650 m), Zoutelande light house (±700 m), Bicycle rental Koppejan (±1,0 km) & Duintop Zoutelande (±1,2 km).
For information:
Willibrordusplein 3, Zoutelande
web.
Website