Lighthouse 't Hoge Licht - Westkapelle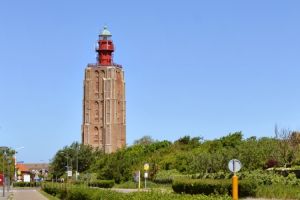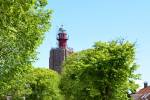 The lighthouse of Westkapelle. After quite a climb the view from the plateau is more than worth the effort. In good weather you have a good view of the entire city of Walcheren.
The tower was originally built in 1432, as a brick tower of the Sint Willibrorduskerk. In 1817, a light with a red colored superstructure was placed by a design of J. Valk. In 1831, a fire destroyed the church, the tower alone remained intact. The tower consists of six floors and has a height of 53 meters. The lighthouse is located at the beginning of the main street called the Zuidstraat, and is unmanned and opened periodically to the public.
The public can then climb the tower to the roof of the tower.
Characteristic
Name: 't Hoge Licht
Built: 1432
Tower height: 52,3 m
Light height (above sea level): 49,0 m
Floors: 6
Stair treads: 197
Manned: No
Open to the public: ja
Closed in case of storm or bad weather
Furthermore Lighthouse 't Hoge Licht - Westkapelle is near the following sights: Polderhuis (±850 m) & Lighthouse Noorderhoofd - Westkapelle (±1,4 km).
For information:
Kerkeweg 1, Westkapelle
web.
Website