Playground Lammerenburg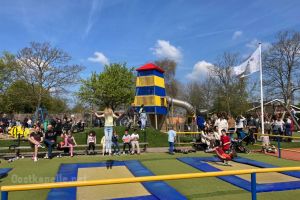 A paradise for children and families seeking a day of fun and adventure. This spacious playground offers a safe and stimulating play environment for children of all ages.
What to Expect at Lammerenburg Playground?
Diverse Play Equipment: The playground features a wide range of play equipment, including swings, a zip line, climbing tower, trampolines, slides, climbing frames, and sandpits, suitable for children of different age groups.
Safe and Spacious: Lammerenburg Playground is designed with the safety of children in mind, with ample spacing and soft ground surfaces.
Family-Friendly Facilities: The playground also provides picnic tables and benches where families can relax and enjoy a self-brought lunch or snacks.
Refreshments Available: The playground offers the option to purchase coffee, tea, lemonade, and ice creams, perfect for a quick break during playtime.

A Fantastic Day for Children and Parents
Visit Lammerenburg Playground in Vlissingen and enjoy a carefree day filled with play and laughter.
Furthermore Playground Lammerenburg is near the following sights: De Kanovijver (±1,3 km), Children's Playground Ballorig (±1,7 km), Manege de Zwaanhoek (±2,0 km), DOCK Fun & Event Center (±2,0 km) & Cine City (±2,3 km).
For information:
Zuidbeekseweg 18, Vlissingen
web.
Website