Hof van Krijn - Cottage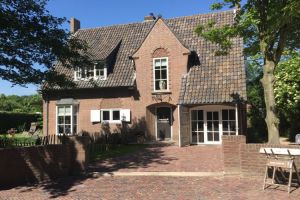 Hof van Krijn is located on the characteristic Duinweg, almost directly on the sea. A great place to relax in the middle of nature. The south beach and the lively center of Zoutelande are within walking distance. The boulevard of Vlissingen and the bustling Middelburg are easily accessible by bicycle.

The detached guesthouse with its own parking space is located in the park-like garden. The guesthouse is trendy and stylishly furnished for two people, with a spacious bed, sitting area, dining table, kitchenette, shower and toilet. The kitchenette is equipped with a Nespresso coffee machine, kettle, refrigerator, hob and toaster. You can also use the sunny terrace and enjoy the garden under the plane trees. The guesthouse has free wifi, bed linen, towels and beach towels. Our guest house is equipped with central heating and double glazing, so that it is also a good place to stay during the colder winter months. For more information you can always email HofvanKrijn@gmail.com or visit our Facebook page.

At Hof van Krijn you can park for free on site, this is a parking space right by the sea and within walking distance to the village.

Prices 2021/2022 :

October 1 to November 1 €100.00 per night
November 1 to December 23 € 90.00 per night
December 23, 2021 to January 9, 2022 € 100.00 per night
9 January to 31 March 2022 € 90.00 per night
March 31 to April 20 € 95.00 per night
April 20 to May 31 € 100.00 per night
June 1 to June 30 € 110.00 per night
1 July to 31 August € 120.00 per night

No breakfast
Additional costs: tourist tax as of April 1, 2021 € 2.00 per person per night
Smoking is not allowed in the holiday home
For information and reservation
Fam. Plak
Duinweg 83, Zoutelande
tel. 064 602 564 0
mob. 061 291 137 3
mail.
E-mail
web.
Website
Characteristics
Price indication: €70,00 to €110,00 per night.
Max. 2 personen.
Pets allowed after consultation.
No smoking.
Kitchen
Refrigerator.
Freezer compartment.
Water boiler.
Toaster.
Media
Wi-Fi internet.
TV.
Foreign TV channels.
Radio.
Outside
Garden.
Terrace.
Garden furniture.
Private parking.
Bicycle storage.
Location
Distance to the beach: ±30 m.
Distance to the city centre: ±300 m.
By the sea.
Detached.
Occupancy rate
October 2021
39
1
2
3
40
4
5
6
7
8
9
10
41
11
12
13
14
15
16
17
42
18
19
20
21
22
23
24
43
25
26
27
28
29
30
31
November 2021
44
1
2
3
4
5
6
7
45
8
9
10
11
12
13
14
46
15
16
17
18
19
20
21
47
22
23
24
25
26
27
28
48
29
30
December 2021
48
1
2
3
4
5
49
6
7
8
9
10
11
12
50
13
14
15
16
17
18
19
51
20
21
22
23
24
25
26
52
27
28
29
30
31
January 2022
52
1
2
01
3
4
5
6
7
8
9
02
10
11
12
13
14
15
16
03
17
18
19
20
21
22
23
04
24
25
26
27
28
29
30
05
31
February 2022
05
1
2
3
4
5
6
06
7
8
9
10
11
12
13
07
14
15
16
17
18
19
20
08
21
22
23
24
25
26
27
09
28
March 2022
09
1
2
3
4
5
6
10
7
8
9
10
11
12
13
11
14
15
16
17
18
19
20
12
21
22
23
24
25
26
27
13
28
29
30
31
April 2022
13
1
2
3
14
4
5
6
7
8
9
10
15
11
12
13
14
15
16
17
16
18
19
20
21
22
23
24
17
25
26
27
28
29
30
May 2022
17
1
18
2
3
4
5
6
7
8
19
9
10
11
12
13
14
15
20
16
17
18
19
20
21
22
21
23
24
25
26
27
28
29
22
30
31
June 2022
22
1
2
3
4
5
23
6
7
8
9
10
11
12
24
13
14
15
16
17
18
19
25
20
21
22
23
24
25
26
26
27
28
29
30
July 2022
26
1
2
3
27
4
5
6
7
8
9
10
28
11
12
13
14
15
16
17
29
18
19
20
21
22
23
24
30
25
26
27
28
29
30
31
August 2022
31
1
2
3
4
5
6
7
32
8
9
10
11
12
13
14
33
15
16
17
18
19
20
21
34
22
23
24
25
26
27
28
35
29
30
31
September 2022
35
1
2
3
4
36
5
6
7
8
9
10
11
37
12
13
14
15
16
17
18
38
19
20
21
22
23
24
25
39
26
27
28
29
30
October 2022
39
1
2
40
3
4
5
6
7
8
9
41
10
11
12
13
14
15
16
42
17
18
19
20
21
22
23
43
24
25
26
27
28
29
30
44
31
November 2022
44
1
2
3
4
5
6
45
7
8
9
10
11
12
13
46
14
15
16
17
18
19
20
47
21
22
23
24
25
26
27
48
28
29
30
December 2022
48
1
2
3
4
49
5
6
7
8
9
10
11
50
12
13
14
15
16
17
18
51
19
20
21
22
23
24
25
52
26
27
28
29
30
31
January 2023
52
1
01
2
3
4
5
6
7
8
02
9
10
11
12
13
14
15
03
16
17
18
19
20
21
22
04
23
24
25
26
27
28
29
05
30
31
Location